« A Case of "Blow-My-Mind"! | Main | Nothin' But the Brothas at Tradewinds 2/3/2005 »
February 07, 2005
A Case of the Willys at Tradewinds 2/5/05
I got to the Tradewinds a little early, in time to get my second favorite location. I got that table only because David Schrader's Tenor Saxophone was on the table in its stand. The place was getting full early and I recognized lots of faces. Willy was in a good mood, still talking about his visit to New Orleans. The band members were in a good mood and happy to be playing on one of their traditional nights at the 'Winds. Only Levi Lloyd, sitting in for Volker Strifler and playing with the band for the first time, seemed a little withdrawn. After saying hello to folks I went outside for a walkaround.
"My grandma and your grandma
Were sittin' by the fire.
My grandma told your grandma:
"I'm gonna set your flag on fire."
(Talkin' 'bout:)
Hey now! Hey now!
Iko, Iko, anay
Jockamo feeno ai nané.
Jockamo fee nané.
"My grandma and your grandma
Were sittin' by the fire.
My grandma told your grandma:
"I'm gonna set your flag on fire."
(Talkin' 'bout:)
Hey now! Hey now!
Iko, Iko, anay
Jockamo feeno ai nané.
Jockamo fee nané.
Look at my king all dressed in red.
Iko, Iko, unday.
I betcha five dollars he'll kill you dead.
Jockamo fee nané
Hey now! Hey now!
Iko, Iko, anay
Jockamo feeno ai nané.
Jockamo fee nané.
My flag boy and your flag boy
Were sittin' by the fire.
My flag boy told your flag boy:
I'm gonna set your flag on fire."
("Jackamo" James Crawford)
I managed to walk back through the backdoor of the 'Winds a half second before the first note of the first song. A New Orleans classic! I knew a good sign when I saw one: the North Bay's best R&B drummer and vocalist, best riffing R&B guitarist, best tenor sax player (in the best horn section), plus a great funk bassist, were opening with a first rank New Orleans funk Mardi Gras tune. Oh Man! Like everybody else I started singing, "Iko Iko!"
With no break Willy started the long unaccompanied "I'mmmmmmmmmmmmmmm" of "I'm Ready." Perfect pitch.
"I'm ready for you
I hope you ready for me"
Done nothing like the Muddy Waters original it was Mardi Gras all the way.
A crazy vocal scat by Willy on "Walking With My Baby" had everybody laughing, right into a wild rhumba on "Let the Four Winds Blow (Let 'em blow, Let 'em blow)." Levi was visibly growing more confident, but still passed on taking a solo beyond a one verse restatement of the melody riff.
"Walking The Dog" may be an old war-horse, but the "Case" transformed it into a funk masterpiece. Willy's drumming, David's horn work, and Levi's funk riffing drove me out on the dance floor. The place was packed. Then Willy called "The Thrill Is Gone" with an eye to Levi. Bassist Carl Bowers, already grinning joined Willy in re-setting this classic in a totally funky beat. Calling Schrader for a horn solo, David gave a beautiful and heartfelt sound. After the next turnaround Willy called Levi's name and Levi in his first solo of the evening produced a smoky and deep reading of the minor blues. "And now that it's all over, all I can do is wish you well."
Out of the trick bag came Robert Parker's New Orleans R&B classic "Yak, Yak, Yak (you gonna drive your man away!)." Man, was this ever New Orleans rhythm night. It was a dance feast. Again and again over the night Carl Bowers would cover so much ground and set such a ferocious groove with Willy that the others were freed to make moves and solos.
"Are you ready to dance?"
"I said, ARE YOU READY TO DANCE?
'YEAH!'
"GET INVOLVED!"
"I SAID GET INVOLVED!'
"ARE YOU READY TO GET INVOLVED?"
'YEAH!"
"I CAN'T HEAR YOU!"
"YEAH!"
"LET ME HEAR YOU SHOUT 'GET INVOLVED!'"
"GET INVOLVED!"
And with that the immortal chank of "Sex Machine" began. Get On Up! 'Verse' after 'verse built with rhythm development and driving horn solos by Glenn Sullivan and Schrader before any vocal. It was the full production number. I looked out on the dance floor and saw person after person from the old dance crowd; it was like old times. Willy Coyote calling solos called David's name and kept the driving beat going never giving a solo-ending cue. David played verse after verse getting harder and harder, bop squeaking and honking, going just as fast as Willy's drumming! Stupendous funk! Super funk played us into the break. Body Heat!
The second set opened with T-Bone Walker's "Street Walking Woman." Nice solos by Levi and David on this swinging tune. A funk instrumental followed that. The packed house was dancing hard.
The band does some Tower of Power tunes, but rarely "What is Hip." Willy calling it was a surprise to Levi and you could see him reaching back in his memory and coming up with the tune. Suddenly Levi was in command and he turned in a driving solo that had the audience whistling at him. Mo, dancing right in front all night, was goggling at him as he burned.
Willy told Levi to call a song and Levi called a "Case" slow blues standard: "In And Out Of Love." Levi burned into the intro, played nice rhythm behind Willy's vocal, and then dive bombed into a solo that started in the lower registers and only slowly through three verses reached the upper registers to scream. At one point he missed the verse chord transition and Carl, Glenn and David were laughing and urging him on. Ignoring Will's cues Levi kept going and just plain burned. Mo, directly in the path of his amplifier, was leaping up and down in front of him as he played with his eyes closed. People were yelling and whistling. The horns were yelling "Go, go!" in front of me. Wonderful stuff. At the end Levi gave a "Gee, sorry" look to the band. They were all laughing and pointing at him. The audience was screaming and yelling.
Levi really chanked rhythm guitar on "Very Superstitious", with a fine solo too. A very funky and snaky "Twine Time" was done only as an instrumental. It was really over top and farther and farther from the original with each verse. The band was really going new places. It went and went and the house and the dance floor was packed. They played us into the second break with this one.
The third set had a smaller house and more room. The band broke into that riff you all know, and "I Feel Good (I knew that I would)." The floor filled with dancers, and suddenly we were all pointing at the TV in the far corner. The two distant corner TVs are always on at the 'Winds (captioned-no sound), with very strange surreal combinations like mud wrestling and Iron Chef. There on the screen as Willy sang "I feeeeel nice, like sugar and spice" was James Brown on Miami Vice in a white suit and looking like he had a halo. The horns started pointing and Levi caught it and started laughing. Willy sang, "I got you!" as James gave a big close-up toothy smile through a misty lens. God's Archangel smiled upon us.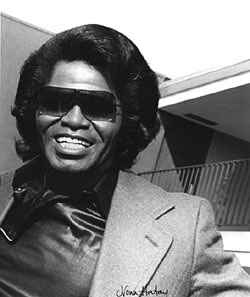 Emboldened by the Mandate of Heaven, Willy launched into a spoken song introduction. "I don't know how many times I've played this goddam song. People get laid on this song. People get drunk to this song. Why do we play this motherfucking song: because it puts butts in the seats and drinks from the bar. Budweiser and "Mustang Sally". Budweiser ought to give a royalty to this damn song. Every musician has played this way too many times. Do we have to play motherfucking 'Mustang Sally'?"
Thus began the most de-constructed version of "Mustang Sally" I've heard. They ripped it to shreads and went other places with it. We were all cheering. Unbidden the whole audience sang the immortal chorus of "Ride, Sally, Ride" in the right places. Willy cracked up while never missing a beat. Dave Schrader delivered a bop solo; Glenn Sullivan played Miles Davis playing "MS" with all chord substitutions, hell, melody substitutions. Couldn't happen to a better song.
Then in an almost mind-bending switch, they did "Never Been To Spain." Levi did a nice double-stop solo based on major pentatonic scales sounding sorta 'country'. It was way out there.
Then the band went into the "Sex Machine" riff and did the whole thing again, but in a whole different way. Carl really pounded this way out there in groove land and Levi smacked it around with his always-changing funk riffing.
Suddenly it was late, very late, and it was over. "We're done, there ain't no more. I get to go get a drink! Goodnight!"
A great night with mistakes, missed cues, great solos, powerful grooves, and crazy moments. Celebrate Mardi Gras, dance your booty off, bow to the goddess of music, get wild, play great music.

Posted by Rolfyboy6 at February 7, 2005 08:26 PM
Comments
Post a comment