« May 2006 | Main | December 2006 »
October 27, 2006
Tragedy Strikes Blues Legend Sugar Pie DeSanto, Late Wednesday Night, Oct. 25, 2006, in Oakland, CA.
By Eldridge "Big Cat" Tolefree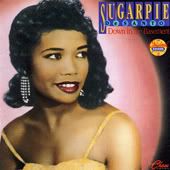 International superstar and Bay Area blues legend, Sugar Pie DeSanto barely escaped her burning North Oakland home late Wednesday night. The recording artist's husband of twenty seven plus years wasn't as lucky. Jesse Davis, Desanto's husband was the only fatality in last nights three alarm blaze that injured three firefighters, and sent seventeen neighbors to Red Cross shelters. Fire Department spokeswoman Capt. Melinda Drayton, reported the cause of the fire is still under investigation and unknown this time. According to Sugar Pie, her husband was attempting to extinguish the flames with a blanket, when she yelled to him "come on lets go." After running out of her burning home, the singer noticed he was nowhere to be found. A resident rush to their aid, but was unable to enter the smoked filled home do to the intense heat and toxic, thick smoke that made it impossible to breath let alone see anything.
One firefighter was seriously injured with third degree burns in the late night blaze, two other firemen were treated for smoke inhalation and minor injuries battling the fire. Officials said an unknown source caused multiple explosions inside the unit causing the fire to spread quickly. Firefighters battled the blaze for more than thirty minutes before getting it under control, on-lookers watched in amazement as the dark orange flames lit up the dark sky in their otherwise calm neighborhood. Witnesses said, the explosions may have contributed to the firefighters inability to battle the blaze initially. If you get a chance please drop Sugar Pie a line or two, paying respect for the loss of her husband. Undoubtedly she lost most, if not all her awards, photos and over forty years of memorabilia.
Everybody knows Big Cat loves the blues, so when your out there spending your hard earned coins on music, be sure to support America's original true art form…. Thanks for keeping the blues alive and kickin'. Please send your comments and condolences to her label at jasmanrecords@comcast.net or visit Suga Pie's new website at www.jasmanrecords.com Until next time, more peace, less grease and red meat…
Big Cat
Maureen's review of Sugar Pie DeSanto at Eli's Mile High Club
Bay Area Bands' fine Sugar Pie DeSanto Page
Sugar Pie at Jasman Records
Posted by Rolfyboy6 at 04:21 PM | Comments (0)