« January 2007 | Main | March 2007 »
February 26, 2007
Wednesday Night with Craig Horton By: Mo (2/07)
Took today off just so I could go see, and hear, Craig Horton lastnight.
It's great to do that every once in awhile,
The Saloon is one of my favorite places to go hear the blues, if not my favorite, so I sometimes look ahead a month or so and request my day off from work. The schoolnite shows are the best. No crowds, easy parking, easy in & out, just more laidback. Well worth using up a few of my holiday credits we get at this job. Talk a bennies!!


I didn't put out the word to the Roadtrip gang but word got out and before I knew it....I had a crew in the van.
Dee, Kris, Rolf, and we picked up Jack along the way.
That was pretty darn good for a Wednesday night.
Got a late start but we made it in the middle of the first set.... not bad.

Walking in the first thing I noticed was the band and what a band it was!!!
Steve Gannon on guitar; Henry Oden on bass; Pockets on drums.
Of course Craig singin' and playin' the blues on dat guitar!!!

Aaaah man.... is he soundin' better than ever. It's so pure and raw. and it's got a roughness around the edges but yet smooth and then there's his singing....real sweet.
I don't know how to explain this stuff but we ain't talkin' rockin' blues here....no siree.
Just the blues, baby and that's it.

Steve Gannon on the other guitar is nuthin' to sneeze at neither. Just the way Steve and Craig are conversating with one another now on them guitars is a whole lotta fun to listen to.

Henry Oden..... well we all know about Henry. What else is there to say about him except when you walk in and see Henry up there, you know it's gonna be solid.

Never seen this guy, Pockets (Spelled wrong but pronounced as such) before but he was really good. Mz. Dee's Brother.
Pockets was in the pocket!!
Bet he never heard that one before.

And speaking of Mz Dee, she was hangin' out in there the whole night. And yep, we had the honors of getting to hear her sing a couple. Wish it were more than a couple because that gal there can sing!!!
Mz.Dee has always been one of my favorites and her with Anthony Paule on guitar/vocals, Tim "The Iceman" Wager on bass, Tony Lufrano on keys, and Paul Revelli on drums, is one of my favorites shows ever. Been way too long since seeing them and lastnight made me all the more anxious.
She's a class act that Mz Dee.

What a great night of blues.
Craig has still got it and got it more than ever.

I got to sleep in a bit today and that was nice. Took the dogs for a hike at the regional park nearby and it was so beautiful out there. Best part is that nobody was out there that early on a weekday and our dogs, Petey & Dale, got to roam a bit more. They're Boxers and two of the most spoiled dogs you'll ever see. Couldn't ask for better family dogs. They sure miss thier "siblings", that meaning our kids. I do too.

All the creeks are runnin' real good like mini-rapids, everything's green, and the bay laurels were smelling so good. The clouds broke and the sun was shining and there was those bigass fluffy white clouds that had a bit of darkness in them but were harmless. A hawk would occasionaly make it's presence known with a screech as it flew by and it was low too. That was pretty cool.
It was nice and I felt the most peaceful I've felt in long time just walkin', listening to the creeks, the birds chirping, the wind blowing through the trees, (the dogs panting and peeing on everything ;-) and thinking about the great night of blues and hanging out with friends it was.

Thanks Craig, Henry, Steve, Pockets, Mz Dee, The Saloon- along with all it's regulars, and especially the crew that came along for I had a great night.

See you out there,
Mo
Posted by Mo at 05:16 PM | Comments (0)
Friday Night Blues-BFD Style! By: Mo (2/07)
Heard from a very reliable source that Burke, Foster & Dowling (BFD)had a trio thing going on at Jasper's on Friday night.
Now usually I don't go with rumors but this resource is very reliable and so reliable in fact that I didn't even call ahead before I left.
Later, she told me that she found out from a flyer they had made up and plastered all over the venue.
Thanks Anne!
It was great to see you on Friday.

I had just finished watching JFK on DVD and I was alittle pissed by the time I left the house and some blues was much needed. As a matter of fact....I couldn't even finish watching it.
It's shameful to be an American much these days.
I don't read the paper or watch the news much anymore just to keep my mind right and then I had to go and watch that.
Aaaah well....

Got in the van and headed to the West County. I was listening to a CD one of my blues buddies at work loaned me by Kenny Wayne Shepard. Yep, that's right, Kenny Wayne Shepard. More on that later because the kid nailed it right on the blues head this time.


Walked in Jasper's and saw James Foster right as I walked in and then "Tall" Paul Dowling. He told me that they would be starting up in about ten minutes. I walked in and checked out the stage and sure enough it was set up for just a trio. I sat in the patio and had a smoke and then David Burke walked up. Had a quick conversation and I asked him if it was going to be a trio all night and he said, "yes and I'm gonna have to work hard tonight." and I said, "I know. That's what I'm looking forward too".

While sitting in the patio I noticed a poster with Jackie Payne/Steve Edmonson on it. They were playing just down the road at the French garden Restaurant. I was curious but once I settled in at Jasper's, that was it. Usually one or two beers will make stay and that's what happened. Not only that, I didn't want to miss this night. These guys just don't play together very often.
Later, I would find out that the French Garden is the old Marty's at the Top of the Hill. I've been there once and they have a great stage with a dance floor. Would love to hear of some more blues there because I will be there.

It was great that first set and a half.
That first set was awesome!
David Burke is one of my favorites around here. He never plays outside the area and is one of Sonoma County's best kept secrets. Those were my words some few years ago and now it seems others use it too. That's because it's true! The guy is amazing what he can do on that guitar and he can sing too! He sings with a growl and has that wicked guitar playing style that can back it up. He goes from rhythm riffs to leads effortlessly. Better yet...he plays them at the same time!!
The first set was one after the other with hardly any pauses, he was pulling them out without hesitation. The guy has got it (what I like anyways) and it would be great to hear more of it more often.
He worked hard alright, the whole band did for that matter. The rhythm section was covering a lot of ground. These guys here have a chemistry that goes beyond compare. They've got it all and don't need nuthin' else. That is when David's in the mood. He lost it in the last set. I guess he got wore out since he hadn't played for some time.
It was just going through the motions kind of feeling to get through with the night during that last set.

I can understand that it must be exhausting fronting a whole night all by yourself especially if you haven't played in awhile. That first set alone was well worth it though.
James and Paul would get us through the last set and those two are one of the best rhythm sections around!

Had a couple of people sit in for a few songs on the second set and that is what seemed to lose the momentum. That's just talking about for me anyway.
Jams are for Sundays and Mondays, not Friday's or Saturday's. I'm sure you've all heard that one from me before. No disrespect for the players sittin' in but I'm sure some may take it wrong. I just calls it like I see and feel it.

Anyway....what a great set and half by BFD. I wish they had more gigs because I would be there to see them all the time.
Considering they hadn't played in quite some time, it was awesome.
Thank You David, Paul and James. Awesome musicians and some of the nicest
guys around.

I hope you keep working on this trio right here and keep it together because this trio is magic-Pure Blues Magic.

Mo
Posted by Mo at 05:11 PM | Comments (0)
Lara Price Band at Rancho Nicasio 2/23/07
I always think I've gone too far on Pt. Reyes-Petaluma Road and somehow missed the turnoff of Nicasio Rd., but as usual I found it just a bit further. A short drive up Nicasio Road had me to the old town and the Rancho Nicasio Restaurant and Bar.
Lara Price and Laura Chavez were checking the stage and setting up their guitars. I briefly interrupted them to introduce myself. Lara looked tired as she surveyed for problems, and Laura looked concentrated on guitar tuning, cords, pedal board and mic placement. I wandered the house enjoying the moose head in hat, collar, and necktie, the good paintings on the wall and the historic pictures of old Nicasio. The mug shots of Frank Sinatra and of the lined up bare posteriors of the Kilgore Rangerettes in the men's room were as good as always.
The show started with the Lara and Laura Duo. "Love Me Like A Man" with its wiry licks and attitude was a great starter showing off Lara's big smoky voice. Laura sounded like she could play with Muddy Water's band. They delighted me with a send-up of a great Junior Wells/Buddy Guy tune "Cut You Loose"
"Gonna throw up both my hands,
Gonna Holler 'what's the use?'
I oughta, but I ain't-a
Gonna cut you loose."
Laura had the hammer-on lick of that tune wobbling perfectly, Lara had attitude and sneer on top of the guitar, and it just plain had authority.
Lara Price's voice is like butter and she has huge projection and breath control. She sounds just so good. Unlike many who sing loud she can sing softly, and with authority in the softness. "A Lover Is Forever" You can hear the opening verse at CDBaby. It's pleading sadness and wry letting go sets it apart from most blues ballads.
Still in duo format Laura switched to a Stratocaster while Lara used the Martin acoustic for "Angel From Montgomery". Lara can carry a John Prine song too, while Laura added grit and grind.
Calling up drummer "Bald Head Fred" and bassist Jack Cannon to the stage they launched into "Faces of the Blues", the title track of one of their CDs. It's a classic "opener song" with a slow intro into up-tempo drive and some hot guitar to get things rolling.
With the house about half to two thirds full on a cold night in rainy February the band cut loose on "Suspicion [?]" with Lara getting a creamy voodoo sound to her voice and Laura cutting loose with a zinging solo with a lot of distortion. Laura is the sole front instrument in this band and she's really covering it. Hot leads that make sense to the song and strong backing rhythm riffs that move things along. She's helped by the tight rhythm section of Bald Head Fred on drums and Jack Cannon on bass. Jack covers a lot of the harmonic ground with a very full bass line, which he made heard in the large room. I rapidly became fond of Bald Head Fred's drumming as he kept slipping in small Latin elements that filled out the sound and kept it from becoming static or stagnant. This is not any standard power trio. They have great power as needed and they are much more about dynamics. The sound level of the Lara Price Band is only as loud as they need it to be; they vary the dynamic loudness and the attack to suit the song. "Little By Little (your love is slipping away from me)" was a fantastic show of dynamics, up and down in volume and with rhythmic variation. This band is tight.
Lara Price has a fantastic vibrato on command. With the "butter" in her voice and the breath control of her large rib cage Lara has a command of singing that is seldom seen. Her control is remarkable. As the show went on she appeared to get past her weariness and really began spitting out her diction of the words, giving sharpness to the words that powers the songs and puts them across.
Finding something new to do with old warhorse blues classics is always a challenge. Jack Cannon's opening bass solo followed by Bald Head Fred's joining in on drums led into a new take on Sonny Boy's "Help Me." This band sure isn't into slavish copies of the records.
On a Joe Louis Walker hot number Laura cut loose with a long solo and did the crowd walk out into the house. Her parents were in the house and I think she was really having a good time showing them and her guitar teacher how far she's come. It was one of those fun moments and the guitar playing was fiery.
"I Need A Man", one of their familiar tunes lists a set of qualities Lara specifies. It's a lot of fun with full breathy "I need a man like you." Switching to drums for a number it was clear that Lara has drumming in her background. "The Game of Love" was a danceable.
At the break outside I had fun talking with Bald Head Fred, a good guy, about the thrills of touring and having your old tour van terminally break in New Orleans. They finally gave it to a charity. "I called from Alabama and they said 'it could be this or it could be that.' We got back to New Orleans and they hadn't even moved it from where I parked it. It was on its fourth rebuild. I said the hell with it." Lara later from the stage would comment about touring in the south: "Fried everything. We got to Atlanta and there were actual Thai and Mexican restaurants and we went nuts."
The second set opened with "(I just want to make) Love To You." This became a funk tour-de-force for Jack Cannon on bass, with Lara gritting and shouting down to a purr, "I just want to make love to you, love to you." My personal reaction was just what she intended me to have. "Born Under A Bad Sign" was great ensemble work with Lara singing the weary lyrics with authority and Lara powering the guitar parts and Fred and Jack nailing the distinctive riffs of this song.
Lara flat Testified with a huge vocal sound on a song I didn't know, but was something about "I'm gonna move away from here", and getting away from a bad man. She was spitting the lyrics now and her earlier weariness seemed to have left her. Spot on. And then they dropped right down into a wistful slow blues number. Your love is gone—"Old Love." And then right back up into "I Feel A Change Coming On." Lara's voice had vibrato on command and grit on command. Lordy, what a voice!
Than they turned Laura loose on a guitar classic. Coyly: "Do we have any Hendrix fans out there?" It was "Little Wing" and Laura did it right showing perfect Hendrix and then doing more her way. A tour-de-force. I went out and danced. After talking about Mobile and touring they did "You Need To Be With Me" and Laura doing crowd walking again while soloing. The people remaining were quite enthusiastic and one table of ladies turned out to be from Alabama (they recommended fried pickles) and actually requested "Sweet Home Alabama" which the band did for16 bars. I had to bite my tongue to keep from shouting out "Freebird!"
The closer was the up-tempo B.B. King version of "Rock Me, Baby" and was a lot of fun. I shook hands with the band and asked Fred to keep that touch of Latin music in his drumming. It makes for a distinctive sound. I congratulated Laura again and enjoyed her wide-eyed wonder at the way her life has gone since joining the band. Lara was looking really tired again and really didn't want to talk while being gracious. I've since learned she was in a hurry to get the long two hour plus drive home done as she had to catch a plane in the morning!
As you can tell I had a fine time. Man, what a voice! And Lara Price has a band to match, with a guitar player that complements her style. Laura Chavez is going to be a power in combination with that huge voice.
Lara Price Blues Band website
Lara Price CDBaby pages with sound clips: Faces of the Blues Lara and Laura Unplugged I Got News
Posted by Rolfyboy6 at 03:39 PM | Comments (0)
February 25, 2007
Kenny Wayne Shepard's "10 Days Out" By Mo (2/07)
I had enjoyed his early release when he was all of 16 or 17 years old at the time. It was a lot of rockin' blues SRV style but this one here.....BLUES and strictly BLUES!!! I couldn't believe it!!
I always just wrote him off as a rocker as he crossed over to some real rock stuff. I believe he even had a top 20 hit on the rock charts for a spell, I'm not sure. I never became familiar with his stuff that closely.

So, whenever someone came up and wanted to talk blues and Kenny's name came up, I just rolled my eyes and would commence to share some of my ideas of real blues with them. To me...he and Johnny Lang were in the same, being child prodigies with a great first release and then slowly venturing away....

Well, no longer will I roll my eyes when his name is mentioned in blues circles. They will widen with excitement and enthusiasm. This kid has it nailed!!!

Seems I've been using that stupid phrase "nailed" a lot lately. As one can tell, I'm not a very articulate person and English was/is my worstest subject ever, so back off editing police for I know you're out there ;-)

Anyway... a blues buddy at work had bought it, told me about it, and then brought it in for me to borrow.
To be honest, I was not very excited about it but said, "Thanks man, I'll check it out".
He didn't seem excited about it neither but thought I would like it. I'll ask him tomorrow how he likes it when I reluctantly give him back my, I mean his CD/DVD set.
I can see where some Kenny fans might be disappointed because he really changed up to some real blues with some real old southern players. He is much more tamed in this one here.

I got off work, got in the car, took out Alberta Adams and put in Kenny's. Lit up a smoke, and settled in for my commute.
It started out with an acoustic Country type of blues. Almost a Sonny Terry and Brownie McGee feel.
Wow! I thought, almost outloud.
It's Cootie Stark and Neal "Big Daddy" Pattman doing 'Prison Blues'.
I never heard of these guys before.

The next is called 'Potato Patch' by Jerry "Boogie" McCain and it was only getting better I thought.

The next was a number called 'Honky Tonk' by Buddy Flett, another great song by someone I never heard of.
Then he's got B.B. King on it, Clarence "Gatemouth" Brown doing 'Born in Louisiana', Bryan Lee- who is his mentor it seems, Etta Baker, Henry Townsend, Pinetop with the Muddy Waters Band- Willie Big Eyes Smith, Bob Margolin & others, Hubert Sumlin and the Howlin' Wolf Band, the list is amazing. Not only that...the songs are amazing. Not a bad one in the bunch.
My favorites are the of the ones are of the guys I've never heard of before.
Cootie Stark and the song "U-Haul" is just about as real as it gets.

"Well, I've searched and I searched
and I searched and I searched
But I never saw no U-haul behind no hearse."

Pretty much you can't take it with ya kinda number.
A real gem.

My second favorite is "Potato Patch" by Jerry "Boogie" McCain.
It don't get much more lowdown that that there.
Kenny's in the back doing some awesome guitar work and he had Double Trouble with him through out.
They back these old guys with much respect.
There's just so much going on and so much history being laid out, it's exciting for a wannabee hardcore blues fan to take in.


So finally, after playing the CD for the last three days, over and over, lastnight instead of going out, I watched the DVD part of it.
All's I got to say is...GET IT!
This is so pure, so real, and waay better than any other blues documentary I have seen yet!!
That's not saying much because I've haven't seen a lot of the them but it's so good.

They did a great job at this. Simple and effective.
I think the best part is watching Kenny with these living legends. His enthusiasm and respect and most all...his Knowledge... was contagious. His eyes wide-opened with excitement like a little kid in a candy store.
The kid...sorry.... Youngman, can also play some real serious blues on that guitar.

Sad to say but at least four artists in this documentry would become legends instead of 'living legends' after the filming of this.

The Cd is called Kenny Wayne Shepard "10 Days Out. Blues From the Backroads" and it's a real blues jewel.
A must for every serious blues collector.
My favorite line...
"The Blues is something America can truely call it's own. It was born here".
Mo
Posted by Mo at 12:38 PM | Comments (0)
February 22, 2007
Craig Horton at the Saloon 2/21/07
I'd gone stale on the local scene and it was time for a road trip. As usual I had no sense, and after a long day, followed by a full yoga workout and a mad rush to shower, in the dark I piled into the very back seat of Mo's van. It was then I should have realized it was Bent Night Out. The seat was jammed against the one in front and there was no legroom. Mo adjusted this while clucking at me. I immediately went to sleep only to wake up in the deep bottoms of Santa Venetia where Jack was waiting with his running shoes on. I awoke again in the City to see Mo's usual parking miracle space open up before us a block and a half from the Saloon. We piled out and I began to anticipate seeing Craig Horton and his soulful tenor voice and down home guitar.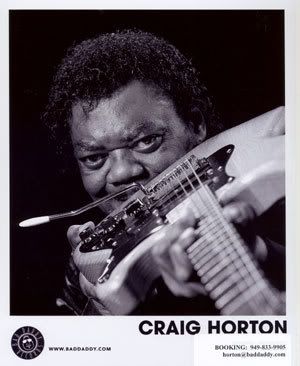 Walking into the Saloon past the folks at the bar the first musician I saw was the great bassist Henry Oden and I started really getting excited. My head swiveled and there was Steve Gannon on second guitar and I got even more charged. Craig was adjusting his strap and cord between songs. In the back corner was a drummer in black beret and dark glasses. The mind dredged up flashes from the past and I realized it was "Pockets" [Harold Paquettz Logwood], the fine singing drummer I'd seen at several benefits. He's Mz. Dee's brother and my radar began swiveling. Sure enough, Mz. Dee in a knitted cap was down the bar. I got even more excited.
Craig and the band started playing and it was a classic instrumental. I can't quite get my memory to cough up the name, but it was of the Freddie King/Bill Dogget kind that was always played when I was a kid. The ancient wood walls and beat up three-renovation paneling of "The Dump" suddenly took me back to another time and I was 19 again trying to hustle my way into "Carrie's Place" out on Old Route 13.
It was the blues before "Genres" and Labels and Grammy awards and white boys in leather pants playing a million notes a second. Nope, it was blues like came over my old yellow airline two-tube radio from small stations all the way over on the right hand side of the dial. The blues I found at the jukes that still existed then.
Craig's tenor was at its finest and filled with soul. His guitar playing was blues feeling itself. Sometimes the meter wandered a bit and a couple of bars were added, but the band followed him seamlessly.
As the evening wore on the sense of being in both past and present grew stronger. A full yoga workout sometimes brings on a breakdown of the separation of the conscious mind and the subconscious. I added a couple of tequilas to that. The ancient wood floor of the Saloon with it's nail heads won shiny and flat and the wood grain raised from generations of dancers, the beat up Victorian mahogany bar, the excellent sound without being too loud, took me to "Magic Reality" and an almost 'romance of the blues.' I was in two or three time zones at once.
Steve Gannon was at his best and playing both rhythm and leads with his clockwork time and restrained soulful delivery. Henry Oden was mostly impassive and drove the groove with authority. I watched Pockets a lot; it was a drum treat as he was solid without over-playing.
Songs I particularly remember were Craig's own "Is It True (that I love you)" with his wonderful tenor caressing the lyrics. "Driftin' and Driftin'" had a lot of 60's soul-blues to it. If there's anyone whose voice Craig's can be compared to it's Junior Parker and Craig did Driving Wheel" so good I just couldn't believe it.
In the second set Mz Dee sang two songs with the band and it was a blast. The first was a fun up-tempo number, and then she blew us all away. Pointing out at the audience she said, "How many have trouble at home?" "Seems like I'm always in trouble!" I don't think I've ever heard "Trouble, Trouble, Trouble" done with such finesse, and then the power of a hurricane!
Wow!
On road trips members of the gang often bring along favorite CDs and we play them quietly on the way to a gig as we talk. We tend to play them louder on the way back as we're worn out then. At the second break I showed Mo my latest hot score, Jummy Dawkins' "All For Business."
The magic reality got real strong late in the night with a song always played in the bars in the 60s: "Night train!" That loping rhythm figure took me away. After that I started going inside my head to the music place and the rest of me began to nod on a stool, I'd been up since 6:00 am and it was catching up with me. I made it to the van and slept all the way to Rohnert Park. Mo had me woken for a second to get that CD, the case for "All For Business" was empty, I'd left it at home. Arriving, I gave Mo a hug and turned to my car, couldn't find my muffler with my heavy coat, and started rummaging for it in the van. Mo said, "It's around your neck." Oh.
As I drove off, aware that I seemed to still be two places at once, I began to sing the words of the Scarecrow's song, "If I only had a brain."
"With the thoughts I'd be thinkin'
I could be another Lincoln,
If I only had a brain.
Oh, I could tell you whyyyyyy
The ocean's near the shore,
I could think of things
I never thunk before
And then I'd sit
and think some more.
And my head, I'd be scratchin'
While my thoughts
were busy hatchin'
If I only had a brain."
(excepted lyrics by EH Harburg and music by Harold Arlen)

Posted by Rolfyboy6 at 07:00 PM | Comments (0)
February 20, 2007
Hellhounds at Russian River Brewery 2/19/07
I zipped in to Russian River Brewery for a few minutes on the special "Tour of California" music night and caught about an hour of the Hellhounds. They are sounding really good and tight now, they've been playing a lot. Bill Wolfe's voice is getting 'tenor power' and that massive chest sure does have some projection. Phil Ajioka's voice is developing some 'burr' to it and sounding real good. Phil's guitar playing has always been admired and now with a lot of playing it's tight as a drum and phrased with power. Man, did they sound good. I'm looking forward to their shows at the Tattoos and Blues Festival this weekend.
A broken bass drum head was driving Drummer Allen McDaniel crazy and he kept having to put duct tape on it. Bill and Phil were making bets about how many yards of tape would get used by midnight. Allen would tape it, give an exploratory push on the drum pedal, get a weak 'woomp" instead of a "thud", and roll his eyes. Heh, I wonder if he changed the head when he got home, or waited until today.
Hi to Arman, and to Peter and Cheryl.
The Hellhounds website
Posted by Rolfyboy6 at 09:38 PM | Comments (0)
February 17, 2007
Friday Night at Negri's with Nick 2/07 By:Mo
After careful studying of two great bay area blues calendars, I wasn't sure what I wanted to do on this Friday night.
Didn't feel like driving all the way to the city for what little was going on.

I was itching to go see Nick Gravenites again at Negri's but that long windy drive to Occidental wasn't appealing to me either.
So, I decided I would just head on over to the Tradewinds to check out these Blues Defenders.
I was approaching the stop light at the intersection of East Cotati and Old Redwood Hwy when something all of the sudden made me turn right instead of left. It was as though I was on auto pilot. Before I knew it, I was on my way to the West County and on my way to see Nick.


I settled in for the drive but forgot some blues CDs for the trip. I wasn't planning on going but down the road a piece.

I listened to the Fox rock station. I like to listen to it every so often. It keeps current on the new metal releases so I can send them to the kid over there in that desert.
I heard one real cool song that started out acoustic and gradually built up to one of the coolest new metal songs I've heard in awhile. I don't know what it was called or who it by because they never said but I'm hoping I'll hear it again. Something about a "Space-lovin', Mother Fuckin...." something, something, something.
Besides the vulgar words right there, it was a way cool song. I know the kid will love it. I'll find out who it is. I usually do just by listening here & there.

So, I'm twisting and turning through the mountains and then it hit me.... The fresh fragrant smell of the redwoods, the smell of woodburning stoves, the fog clinging onto the thirsty redwoods trees, the dark windy road that made me slow way down and not worry about getting there too fast. It was as if I had finally made it home. I was calm and relaxed. It was home.
I rolled down my window, turned off the noisy heating fan, turned off the radio, and drove slowly and quietly thru the forest. I took deep breaths and listened to the crickets singing in harmony; it was so quiet and peaceful. More deep breathes and I was starting to get a headrush!
Man, that was cool.
I almost didn't want to get there but before I knew, I was in the quaint town of Occidental.
I was late but not by much.
Walked in and the band was going at it.
I just love this place. It's very friendly, warm and some of the most down-home folk you'll find in Sonoma County.

The band sounded great. Saw a few familiar faces, said 'Hello' and headed to the dance floor. I love their dance floor.
Nick... Nick....Nick.
He is so awesome.
He's the real deal. His guitar playing is just about the best you'll find especially at some little juke joint in the middle of nowhere. It doesn't get more real than this.
His singing, his playing, the way he's just so laidback and confident about where he's been and what he's seen. The way each song starts is pretty cool. He'll sit there for a short minute, thinking about what to play next, start off, maybe tell the band what it is, and it all just comes together. It almost seems he makes them up as he goes. The real deal, people.
His rhythm playing and solos are just a bit too much for me sometimes. I'll be following along, hips just a shaking and grindin' tryin' to follow along, and he'll throw one in there that makes me wanna yell at him to "Stop that!". It's all just too much sometimes. I mean that in an "over-whelming" kind of way. That's just from his rhythm work in the back there.
He distracts me from all the other solos that might be going on. A very unique style of playing. It draws me right in.

Steve Barbieri was on second guitar and man....was he soundin' great!! He got in some real great solos but to me....the best part of his playing was the way he was filling in on rhythm. He was throwing in all sorts of tasty stuff that really kept my attention.
The best I've ever heard Steve, no doubt.
I am so sorry not to remember the bass players name (John Beckwith-Thanks Danny) or the drummers (Roy Blumifield- Thanks Jack) for that matter. The whole band was tight...tight...tight and top notch blues!!
All this for $5?!!
I had to throw some more in the jar.

Break time is too much fun there. I went alone but was not alone at all. Met and talked to some real fun people. Thing I like about Occidental...it's not "yuppified", yet.
It's real.
I will not miss many of these shows if I can help it.

Thanks Nick and band for some real genuine blues. Thank You Negri's and all you folks in the West County folk for making feel like I finally made it home.

later,
Mo
Posted by Mo at 06:46 AM | Comments (0)
Buddy King Band/ Blues Hawgs By :Mo
At work we have a boombox and it's always being played. I try to keep the mix going but right now I'm in a temporary work station a bit farther from the box so it usually has someone else at the controls these days. Believe me... it's only temporary and when I get back to my regular work station, there will be more blues in that rotation. The dude that has control now never plays the blues and calls it "elevator music". Needless to say...we don't see eye-to-eye and it's not just about that, but that didn't help.


So we got some new guy in there the other day who's on temporary "reassignment" and when the crap that was on the box was over he yelled out, "Play the blues!".
He didn't get my attention much until that moment. I went over to pick his brain about the blues and he knew little except for Johnny Lang, Kenny Wayne Shepard, BBKing and that's about it. I knew I had my work cut out for me. So, our temporary DJ came over and asked me for some blues out of my collection. I had them over in my section. We have our own much smaller box there. I was happy to give him some. I gave him the Luther Allison "Live in Chicago" to get them started.
He put it on and Luther was singing/wailin' in his soul-drenched way he does, "Goin' back... back to that shoeshine stand...." and the dude asks, "Is that BBKing?" and I had to laugh.
It wasn't the first time someone asked me that when I played that Cd there.
The last dude that did is now a HUGE Luther fan!!

The next day, my new blues buddy came in with a shirt that said "Sonoma County- Blues Hawgs" on it and had that picture if the pig in raybans. I was floored!!
He said he thought of me when he put it on that morning. I asked, "Where did you get that shirt?" He wasn't sure and he never even heard the name "Blues Hawgs" or of "The Buddy King Band".
I went into telling him about the band and all the times I used to go see them. That was years ago and did that jar some fond memories of the days when I was just steppin' out into the "live" music scene here in Sonoma County. I really miss that band. I really miss Roy Anderson. He was just about the best blues guitarist in these here parts.

So, I told him about the Cd I have and took it in the next day and we listened to it and I recorded it for him. It was so cool to hear David Schrader's sax wailin' through out the kitchen. The acoustics are great in that building for sax playing.
To hear Roy's guitar just floatin' throughout that massive kitchen was great too. Work all-of-sudden- became much more enjoyable and I was working at a steady blues rollin' pace.

That was cool. I thanked my new blues buddy for jarring some memories and making me dig that one out of the collection. I almost asked him for the shirt off his back but didn't.

Sure miss Roy and that band.

Later,
Mo
Posted by Mo at 06:37 AM | Comments (0)
Saturday Night w/ T.Mambo & Bobby Young 2/07 By:Mo
Saturday night I went to see Bobby Young and T Mambo at the Tradewinds.
Still kind of fried from Nick's show on Friday I decided some sort of blues close to home would be in store.
I was bummed to find out that Mz Dee was there with him the last Saturday they played there.
I would've been there for sure!!
I just love her singing, her presence, her style, she's a jewel.
Aaah well....


Since Johnny Rawls cancelled for some weird reason, Bobby Young took his place.
T.Mambo would be with him.

Walked in the Tradewinds and checked out the band area.
It consisted of T. Mambo's percussion set up complete with cowbell on the floor with a foot peddle. For a cowbell, it didn't sound too bad.
Guitar, Bass, Keys and congas looked like the band. No drummer, just T.
I really thought this was the band for the night, and they sounded pretty darn good, and then a guy came in, dumped his stuff on the floor and started settin' up drums while they jammed. He was obviously runnin' late. He worked quickly.

Bobby's pretty damn good on that guitar and I could hardly hear him. He needed to turn up. Too much bass and congas were mic'd too.
That was before the drummer finally kicked in. Bobby was buried.

It's back to that same ol' question I always ask myself..."when is OK to give 'sound' advice?'

Fun sound, fun crowd, but just not enough blues for me....sorry.

I love when Wylie's there with the Bobby Young Project. And yes, I need to make a show soon because it's been way too long.
Wylie Trauss is a great singer.
Every once in awhile he'll yell out, "It's Bluestime, Baby!!"....and then they break into a real grinder.
Aaaah...ain't nuthin' like a grinder.
I love the way a slow blues breaks out and it's everybody's first instinct to yell out, "Oh, yeah..."
Yep...and Wylie can sing me the blues any ol' time.


Anyway....
People were diggin' on dancin' to this groovin', funkin', Mambo jammin' kind of music.
Yes, even I was.
T.Mambo was the highlite of the evening. Real good on them Congo/conga/bongo thingies.... what ever you want to call them.
Glad I finally got to see him because I have been seeing his name around for awhile now.

I knew I wanted to go to the city Sunday afternoon so I called it an early night.

Just a blues fan......
Mo
Posted by Mo at 06:34 AM | Comments (0)
SF Adventures/Blues Power 2/07 By: Mo
Thought it would be a great day to head to the City. Superbowl Sunday, everyone would be home or settled somewhere, getting ready to watch the game, right???
Wrong!!

I picked up Jack along the way and told him the freeway looked like shit and he assured me that it would break up after the 580 split.
Well...we passed the split and it got worse. I should've taken his advise, turned around and gone around to the bay bridge but didn't. It came to a 15 MPH crawl up and over the grade. We couldn't figure out what the hell was going on and couldn't imagine it backed up all the way from the Golden Gate!!
By this time I could only imagine an accident and hoped everyone was alright.
Well...we made it to the place where you finally get a peek at the bridge through the grade. Planes and helicopters everywhere, flying through the gate, buzzin about and then it hit me, That damn Queen Mary is coming thru!!!
I've been trying to stay away from the news for sanity reasons so I forgot all about it.
Well, no big deal. Had Jack there to keep me company. Didn't have to worry much about keeping the conversation going either ;-)
That dang Jack should write a frekin' book!!
I keep telling him that but he says "who would want to read it?".
Are you crazy, Dude??!
This guy is a plethora of local blues facts ,stories, who played with whom, when, where,...oh my lord!!
He tells it all so fast too that it's hard to keep up.
Jack writes some pretty cool stuff when he sits and writes and is not working so hard on that calendar or out supporting live blues. I love reading his stuff.
A book on the Bay Area Blues Scene is much needed and long overdue and I elect Jack to write it.
I never have looked to see if any exists. There's gotta be. Guess I'll Google it when done here.


So anyway, we get there close to da bridge and it seemed to go by pretty fast even at the slug pace we were moving. There were people everywhere, cars parked along the freeway and at every turnout, all along the far right lane of the bridge was pretty much parking and sure enough...there she was- The Queen Mary passing under the bridge. All we could see was her bow...no her stern...no her back....I don't know but we saw her.
We rounded the bend and Jack said to look back and there she really was!!
She was gorgeous!! Planes and helicopters flying all around her, sailboats surrounding her, fire boats spraying their water cannons around her, it was quiet festive. She's a beauty.
We both agreed it was well worth the wait in traffic, which disappeared at the toll plaza, by the way.

Drove around North beach and China Town looking for parking with much encouragement from Jack and I finally just turned into a garage. I was done driving and had already budgeted parking but would rather put more in the tip jar.

Beautiful day in the city. Walked in and Blues Power was going at it. I was excited to see these guys again. They were so much fun when I first saw them at The Tradewinds not so long ago.
I love Apple Jack's style. He's a fabulous singer, darn good harp player and just a cool aura about his shows.
The horn section was a bit different this time with Michael Peloquen on sax and someone I hadn't seen until then- King Perkoff. He was awesome!!!
I'm sorry to have forgotten the regular sax player's name. I'm not yet very familar with this Blues Power band.

But King Perkoff.......He played a sax and some little piccolo lookin thing. Ok...not a Piccolo but a clarinet/piccolo wind thingy. It was small but not small enough for a piccolo and too brassy soundin' for a piccolo.
One can tell I don't know my instruments in great depth.
At any rate....King Perkoff was a hit!
The whole horn section, guitarist -who I just love but never remembered his name either- was awesome!!
Rick Sanke on drums and none other than "The Ace" on bass. That's Johnny Ace!
Wow! What a backbeat that was. I know those two from loads of other bands.

The guitar amp was on the floor next to the bathroom and that was a first I've seen that there. Guess it was too crowded up there on stage- and it was- but you know what?? It sounded really good down there on the floor like that. Hard to get use to the guitarist sitting behind me on the stool against the wall. Or just roaming around. He had a hard time sittin' still. I think I even saw him appear out of the bathroom a couple of times with guitar in hand and still playing. And you know what? I don't think he missed a note!!
Pretty funny and damn good!!

Apple Jack is my favorite in that band. I would love to own a recording of thiers. I am willing to bet that his voice is even better recorded. Sometimes it's hard to make out all the details when there's so much other stuff going on. I would love to hear him without distortion and feedback, with some clarity is what I guess I'm trying say. He's got a real nice voice.

I am hooked on Blues Power. They have loads of Blues Power for it's Powerful Blues!!
Go see them.

I was talked into staying for some Chris Cobb who was up next and I'm glad I did!! This guy is simply amazing. Not your average 12 bar blues here, no siree! Guitar...Guitar...Guitar!! I had seen him a couple of other times but you know how it goes....the ol' blues taste buds are ever evolving. Funny how something didn't appeal to me a few years back is sounding really good to me now. I would like to go see him again sometime soon.
He had Randy Hayes on drums and Steve Evans on bass and that's no rhythm section to sneeze at. Great sound but I was wiped!! I was wiped 3-4 hours earlier.
Dropped Jack off, grabbed some sugary stuff and chocolate at the 7-eleven and I was wired enough to get home.

I never did get away from the game because it was on while the band was going and blastin' during break. Seems it should just be a national holiday and that way I could a paid day off and time and half.

Aaah well... Colt's won and that's for my late Grandmother. She was so happy when Indianapolis finally got a team but never got a chance to see them win.

Later,
Mo
Posted by Mo at 06:31 AM | Comments (0)
February 13, 2007
Volker Strifler at Last Day Saloon, 2/10/2007
Drizzle was coming down as I ducked into the cut off corner entrance of the Last Day Saloon. Buying my ticket from the smiling face in the window I turned to see friends in the lobby bar. Getting my hand stamped ("First Class" in red ink -damn right!) I went forward into the fun of pre-show mingling.
I was able to talk to the band members briefly as they waited for the early comedy show to end. Volker gave me a copy of his video of the band doing "the Dance Goes On." I always have a good time talking to Don Bassey and to Carl Bowers. I was able to give Don a present (it's hard to give top musicians anything as they're way ahead on knowledge and taste) for the continuing Christmas party he gives every year.
Gail Bowers and I laughed about her son Michael saying, "How come you always go watch Dad play?" when this is only the second time she's been able to get out. I was able to assure her that this won't change as they grow older. Generalizing from single cases is a feature of the adolescent as well as the child. I admit I prolonged the conversation, Gail somehow manages to be simultaneously witty, six feet tall, and large eyed elfin.
My wonderful friend of several years was there on a farewell date to the latest Peter Pan who'd tried to kidnap her to be Wendy, Mother of Lost Boys. Their body language became forbidding as the evening went on.
The highly competent and managerial Liz DiGiorgio, presently booking the VSB and looking to reopen DG's Club somewhere around Napa, deftly corralled me and we talked about teenage children, why I'm not writing much these days, my son the punk rock drummer and what to take for the resulting headaches, and a variety of other things. Liz was wearing a tropical weight and sized halter top that I suavely studied with scientific objectivity, determining once again that she definitely was a member of Order Mammalia. Liz studied me in turn and seemed satisfied of her continuing complete control over my brain function while sending brain waves at me, "Write, Rolf, Write!"
Organist Chip Roland responded to my question as to why I'm now seeing him listed as Chip Roland Conden, "That's my real name and I'm trying out using my whole name to see what happens." You got it, Chip.
As the earlier comedy show wound down, peering through the glass from the side dining room into the showroom showed tables and chairs on the dance floor. A gentle question to the always-helpful Diane Torres cleared up that they were going to move them off the floor. Around me old blues fans were laughing, "We'll move them ourselves."
Shauna the Nuclear Blonde and Linda were there on Girls Night Out and effervescent as always. People kept arriving and the Bar began to fill. Then the comedy show ended and other blues friends emerged for some fresh air. Jami was fun teasing and Dennis was laughing. Kent and Jane Fossgreen smiling, mingling, and talking as they seldom get to do when they are setting up for a show.
Going outside for a smoke as the band disappeared behind the closed curtain for their set up while the chairs were moved off the floor, I peered down the street and true to her legendary ability to arrive at a show right at start time came Mo from a parking space that had opened up just for her. In her matter-of-fact way she said, "Chairs on the dance floor?" "Nope, they're moving them off." "All Right." Good, now the show could start.
"Shuffleupagus" started the show right off with fun in a great "opener." It's typical of Volker that rather than use a classic warhorse instrumental for the classic opening display of the band's talents, he just wrote his own. Also typical with Volker it's a killer, showing off the bands ensemble sound and the talents of the members. The audience settled themselves in and had a good watch of the band as many members moved out on the dance floor and the natural order of the blues show asserted itself. The Last Day is particularly good for Blues Shows as the tables and chairs and wall benchs are up on a raised surrounding platform. It's one of the best dance floors around, nicely laid wood that lets you do shuffle, slide, and spin moves. By the end of "Shuffleupagus" the front line of dancers moved up into the fan of light close to the stage and was ready to boogie. Mo was right in front of Volker and ready to dance.
Not messing around on song selection Volker went into his classic "In your Arms." Being Volker he'd changed the intro again and did a wildly discordant slide guitar intro that somehow made sense. They then proceeded to get to the ecstatic place with the song that Volker fans long for. The band was "On" right from the beginning. Volker went stratospheric with his solo and the dancers packed the floor. Volker is a master of slide playing in his own particular "F" tuning on a Fender Jaguar. His lyrical gift flows in slide playing too. It's a long, long way from the recycled Elmore James licks so often heard.
Off the new CD it was "Soul Salvation" and the Volker reforging of horn band soul. The VSB low toned horn section of Carl Bowers on Trombone and Tenor Saxophone master David Schrader did powerful horn lines despite being turned down in the house mix unlike the usual practice. The dancers were going, getting out on the floor, and Mo was beginning to jump up and down and raise her fist in the air.
Great solos by Chip and Carl Bowers were a highlight of the mordant "The Dance Goes On." Chip was really doing wild things with the sounds that the organ can produce and Carl made his trombone stutter and growl. Volker switched to his low toned baritone guitar and joined in the growling, cranking, and wild noises.
"I've seen the devil, she's got pretty green eyes,
Chestnut filly, what a wild, wild ride…..
And the Dance goes On... OoooHooo…the Dance goes On."
One of the great new songs, "Downtown Living" highlighted Chip Roland Conden's organ parts; Chip could really be heard with the Last Day sound system. The horn parts sounded great and I was struck with Volker's ability to write songs and arrangements with the notes of the chords carried by different instruments so that the song is seamless and the band totally involved inside the song. True "part" playing with switchovers and progression resolutions coming from three and four places at once. This band has the horses so that the chords can be complex and the scale lines moving in a complex weave. Subtle power is the only phrase that fits the complex interior evolutions of the arrangements.
Slowing the roll a bit Volker went into the filigree intro of "Sometimes I Wonder" followed immediately by it's syncopated slow pounding rhythm and tough horn blare. Volker floated up on top sounding alternately tough and lyrical. Volker really broke loose on the telecaster. Since he was forced to switch from a singing Les Paul to a cranking Telecaster he's been a good bit more back to his old "roadhouse rhythm" thing and away from the stratospheric flight solos that used to drive a lot of us wild. This night he had all the rhythm chops, and the high ecstatic flight of melody was back full force. Mo was swaying in front with her arms raised and her Buddha smile on. Volker went up to about 40,000 feet and didn't level off. It just went and went. Don on Bass was driving the engines.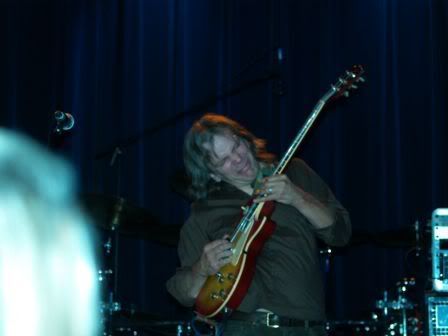 Volker shyly said over the microphone, "Is everybody having a good time?" A chorus of agreement reassured him. Somehow I don't think Volker's gonna go for a red cape and a crown. Don on bass standing next to him always just grins when Volker does the "Aw, Shucks."
"Almighty Dollar" was a lot of fun, with a loping shuffle feel that made this perennial more of a swing tune than it usually is. Chip got off a great solo and then Volker went sky high again and played so lyrically that Mo was about a foot off the dance floor.
Continuing the changes that all songs get in the Volker Strifler Band, "Hell and Purgatory (The Story Of My Life)" was done as a rhumba with more discords in the horn lines. David Schrader did one of his finest bop solos and drove the crowd wild. David is just a monster musician, by far the best tenor saxophonist in my neck of the woods.
Somewhere in here I was standing back on the dance floor out of the fan of light from the stage next to tenor saxophonist Jane Fossgreen. Volker took off on one of his solos and went into the incredible scale substitutions he uses to get the lyrical flights of his solos. Volker knows a lot of kinds of scales and seemingly can shift between them without thought or hesitation. Jane and I glanced at each other. "Oh God, I just love his playing," she said. Volker then inserted a 'mode' into his solo, shifted to the diminished scale for a few notes and then into the major scale. All with his eyes closed and in perfect harmonic relation and flow to the chord progression the band was playing. "How does he do that?"
"Moving On," a Volker classic, had almost everyone out dancing, it was packed in front of the bandstand. People were singing the words too. With it's horn blare and insistent rhythm it really got us moving.
Then it was break time with Volker shyly saying, "We have to take a little break." People streamed outside into the humidity of a rainstorm just passed. Talking with friends, everybody was way up with the music and having one heck of a good time.
They didn't make us wait long for the second set and they just got better. And they opened with Volker's new blockbuster "Angel (Just like a rolling stone). " Power and huge harmonics subtly layered on top of Chip's organ part. "Just like a… Just like a … Just like a Rollin' Stone." Smashing drum parts from Gary Silva who was playing in synchronization with Don, blended into the songs. From that smasher right into the jazzy, almost lilting, "Struck by Lightning." A wild Chip solo on a jazz progression had the horns really filling out the song. Yum.
Then the song that always drives everyone wild. A weird slide guitar intro into the familiar minor third vamp of "Spoonful" had people streaming out of their chairs and onto the floor. The song is a familiar classic, and yet greatly changed from the classic Willie Dixon/Howlin' Wolf version. I sometimes think Volker's found an extra note in the blues scale on the slide parts of the tune.
Then in one of those "You can't make this stuff up" moments, Volker started his well known "Somebody Help Me", the band came in a beat later, and…. Volker lost his place, came to a complete stop for a beat and a half… and the band stopped perfectly with him and started perfectly with him in place and on beat. My mouth was hanging open. I've never seen such a display of band "tightness" and psychic togetherness. It was like it was an inserted dotted quarter note rest between measures—and the band was with him perfectly. David and Carl and Gary were laughing, Don was grinning, Chip kind of half rotated his head.
Sonny Landreth's "Congo Square (Voodoo Queen)" had 'em out dancing hard to its great rhythm and bent harmonics.
"It might be superstition
But when I hear 'em in the night I say a prayer
It might be superstition
But when I hear 'em in the night I say a prayer
And that's 'cause I respects tradition
Like the kind they carry on in Congo square
Congo square."
Then it was Slow Blues time and
"Like it or not, Baby,
I've made up my mind,
Baby, there ain't no use in crying
or wasting my time
I've had my share of being blue
Lord knows, lord knows
I'm falling out of love with you"
Again, it was Volker finding new places to go on the guitar, it was magical.
"Wake Up, Wake Up (Ting a ling)" and "You're Bad[?]" continued on the roll and many people were gathered at the sides of the stage just watching the band weave the spell. Then they really bent my mind with the Peter Green tune from my days in the Haight Ashbury "Albatross." Deep, thick and harmonic, it was like a space journey to another planet. What a change up. They got me again.
Powerful rhythm was next with "Doggin' It." People were dancing like crazy.
For the last song it was the Volker Classic "(Is this) Love" with its driving horn lines and stutter turnaround over a descending, then ascending vamp. God, they were tight and seemingly could do anything and make it look smooth, even jagged stuff.
Volker announced, "Well we have to stop now, that's it, we're done." We were laughing at the Volker shuffle footed apology. People immediately started stomping their feet and the horns were laughing as they slowly headed toward the back of the stage. Carl was grinning at Volker and Chip was acting like he was taking down his equipment in very slow motion. A spent Volker said, "Oh alright." And they were back on station and surprised me with a number I'd never heard before. A swinging raggy jazzy number with hot changes, it was great and I want to hear it again. Asking about it as I shook hands with the band, I discovered it was a new one, and they'd played it only once before. This band is so tight!
After handshakes and hugs the audience streamed out into the cold night complete and filled. There was nothing left to discuss, it had been a great show.
Posted by Rolfyboy6 at 11:04 PM | Comments (0)