« February 2007 | Main | April 2007 »
March 31, 2007
Sonny Lowe Band at Jasper O'Farrell's, March 30, 2007
It was 9:20 at night before I was done with work, chores, family, and the Junior High School Play. My daughter was the Wicked Witch of the West using a red and gold sparkly Bakelite bowling ball as a crystal ball. She had fun being evil and laughing wickedly. Natural talent and an extroverted personality won the evening.
So in the end I missed the 8:30 Pride and Joy show at the Last Day Saloon. I was supposed to meet friends there. The only interesting 9:30 show was what I thought was going to be "BFD" with David Burke at Jasper's. Sonoma Tunes had received a third hand tip of a show with guitarist-singer David Burke, but no regular show announcement as Jasper's doesn't do announcements now. So I went to Jasper's for the BFD show.
Low and behold the show turned out to be the Sonny Lowe Band (without David) and a partially new crew of musicians. Tall Paul Dowling who's long worked with Sonny was up on the stand with his black Fender stratocaster. New to me was Jason Reed on a classic Les Paul guitar. Another new face was Steve Weber on bass. The fine Steve DuBois was back on the drums and it was good to see him.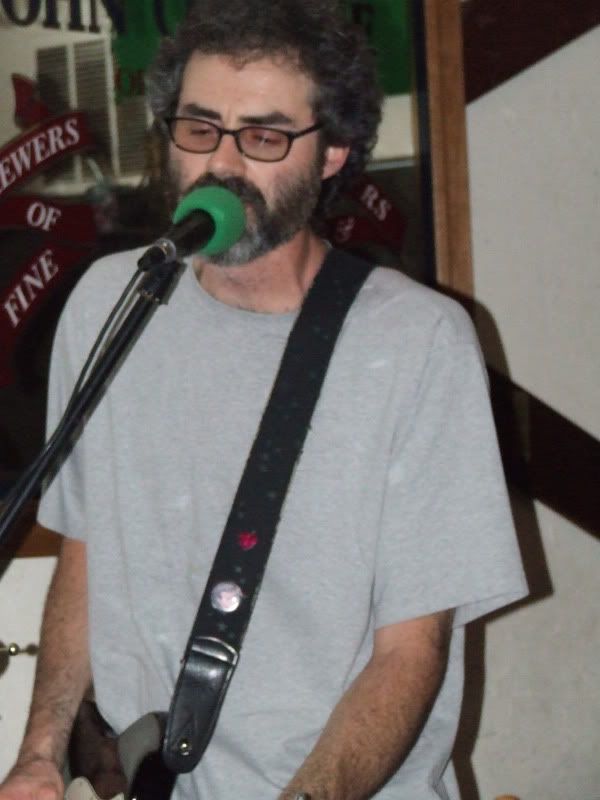 There was a lot of Sonny's familiar songs like "Hey Miss Bessie, you sure got fine Barbecue" and "I'm Ready" and a fair amount of Sonny's reedy voice and hot harmonica. Sonny is one of the hardest musicians to take photos of, he's always moving fast.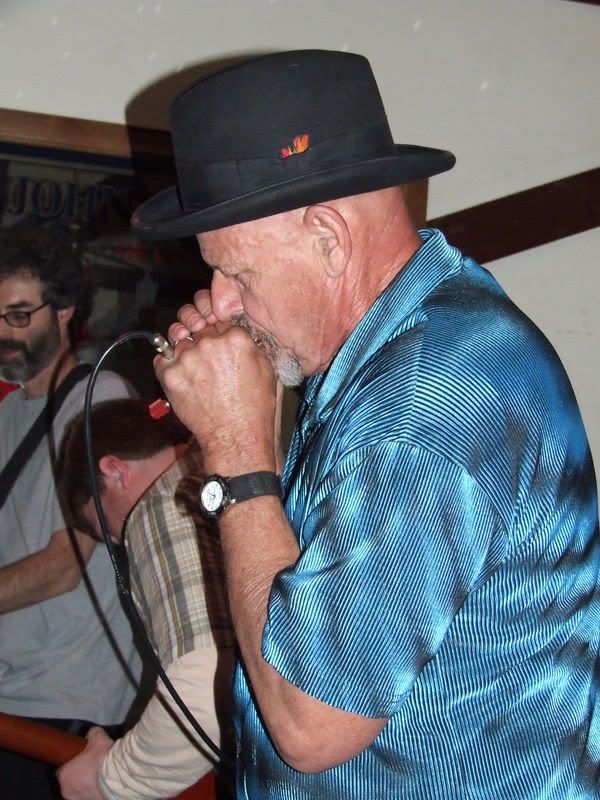 Jason Reed impressed the heck out of me by doing Otis Rush's great "Double Trouble", a song few do these days. "In a Generation of Millionaires, it's hard for me to keep decent clothes to wear."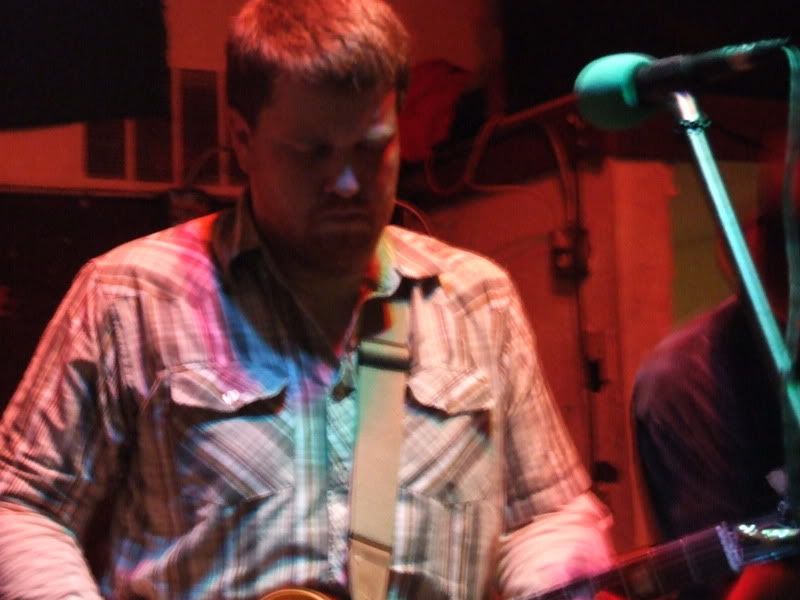 Since this particular group hadn't played together too much yet there were some rough spots. Steve DuBois really held the whole thing together along with Steve Weber in those rough spots. Steve DuBois just keeps on impressing me every time I see him play.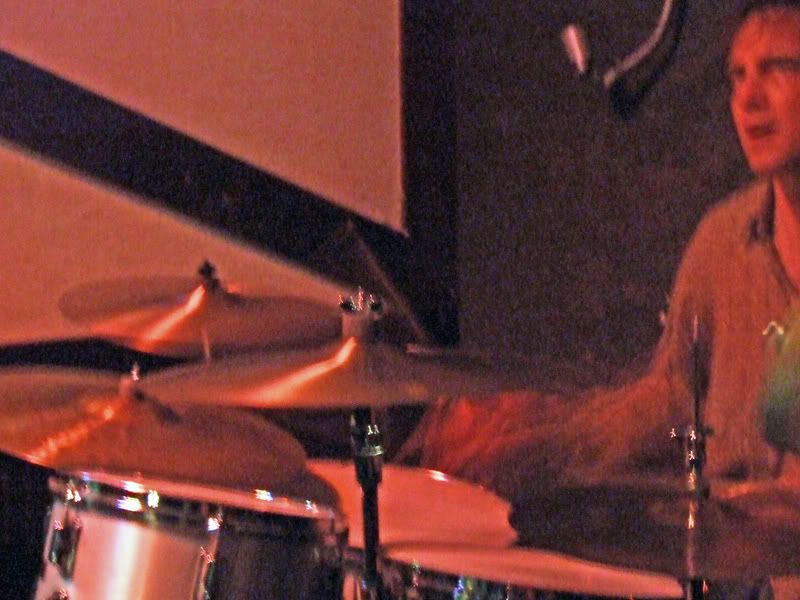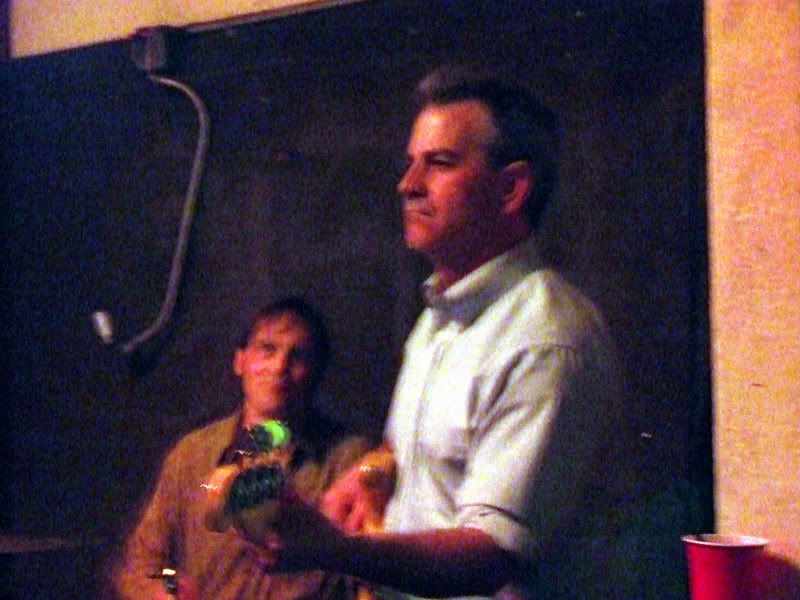 Tall Paul said it never had been a David Burke show. It was a last minute cancellation that Paul and Sonny grabbed. Odd things happen with the bookings at Jasper's these days.
The present owners may sell Jasper's; it's not a done deal yet. The possible new owner is supposed to be the previous owner of two other bars in Sonoma County. Vinnie, the present manager, said Jasper's biggest moneymaking nights were with DJ nights. The place is sort of beat looking right now. It would be nice if there could be some money making hot shows there to help out.

Posted by Rolfyboy6 at 07:23 PM | Comments (4)
March 30, 2007
Ron Hacker at the Saloon 3/24/2007
"Well, I'm a stranger here And I just blowed in your town
Well, I'm a stranger here And I just blowed in your town
Just because I'm a stranger Everybody wants to dog me around"
The circular notion of time was strong as I zoomed down Highway 101. Strange days of being several places at once, of several strands of my life intersecting, were upon me. Multiple strands of life past and present without drama and the feel of the cold hand of fate were moving in me. I wanted to see some Hacker knowing the Ron Hacker I wanted wasn't likely to be up on stage at the Saloon on a packed Saturday night.
Having teens in the house, the son practicing drums, me practicing guitar, and telling the kids stories from back then brought on when I was a young kid myself, back in that coal and railroad town when I found the blues and the guitar. It's a half-century since I was the country boy and the last of the old blues and old time musicians showed me the few tunes they knew. I struggled to learn the guitar, harmonica, and the five string banjo. They taught me how to cut off the necks on bottles and make guitar slides and play in G tuning.
Both my kids were with me all weekend and I was in full parent mode. Having two teenagers in the house brought double vision of my teenage years combined with theirs. The drummer son practicing, the daughter considering whether to play guitar, brought up my own times starting out and where I was back then. About 8:30 my kids said, "Dad, aren't you leaving?" Oh. So I went and saw Hack.
I was in a strange existential place and many things and multiple times were on my mind and in my heart at the same time. On the way down and at the Saloon I was the existential isolated person. I don't like being that way, sometimes you just are that way.
It was a Saturday night crowd of non-regulars who only understood Hack's more obvious dance numbers, they wanted to party. The old time stuff I wanted to hear never got played. Hack can read a crowd and it wasn't time for "Come On In My Kitchen" or even "Brownsville Blues." My passion for early blues would have to go unsatisfied this night. It was all gonna be pretty much post-war and LOUD.
As I remorselessly shouldered my way up the narrow aisle along the bar through clumps of dockers-wearing clean types who were under the impression that the Saloon is for schmoozing in circles, I spotted Jack. He was enthusiastically dancing and his hair was unbound and frazzled outward giving him the appearance of a Hindu Saddhu high on an obscure god, Merlin in a wind tunnel, and the image on the Shroud of Turin. He'd been there a long time already by the look of it.
The place was packed and wall-to-wall and the dance floor part in the back near the Hacksaws was either jumping up and down or swaying in place. The few regulars were up front with elbows at the ready and maintaining space. I joined them and spent the balance of the night up close and personal with the band.
Ron Hacker had his red Gibson, SRV strat, and the modified Regal wood parlor guitar with the old De Armond pickup duct taped to the guitar. Ron wasn't messing around. He had his amp up loud and was slashing out the licks hard and fast.
AJ was such a good sight; I just love the man, as always he was dancing up a storm while he played. What a fine player, he plays lead bass in this band.
A little dark haired young woman was most enthusiastic and kept screaming at every possible dynamic point. Scott kept yelling, "Stop Screaming!" She'd scream again. Since she was located right below the dancing-while-playing AJ's left leg every so often she'd penetrate right through his bass sound and he'd flinch. She was great and provided focus for the milling crowd.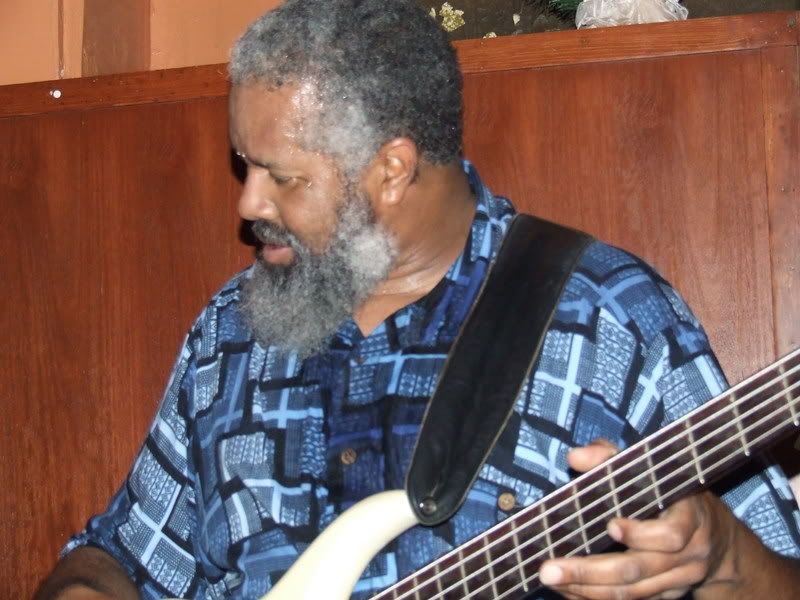 Maintaining position in front of the band with the skill of a power forward against all drives, I proceeded to have a good time watching Ronnie Smith play economical, strongly accented drums behind the Slash-and-burn of Ron's distorted tone.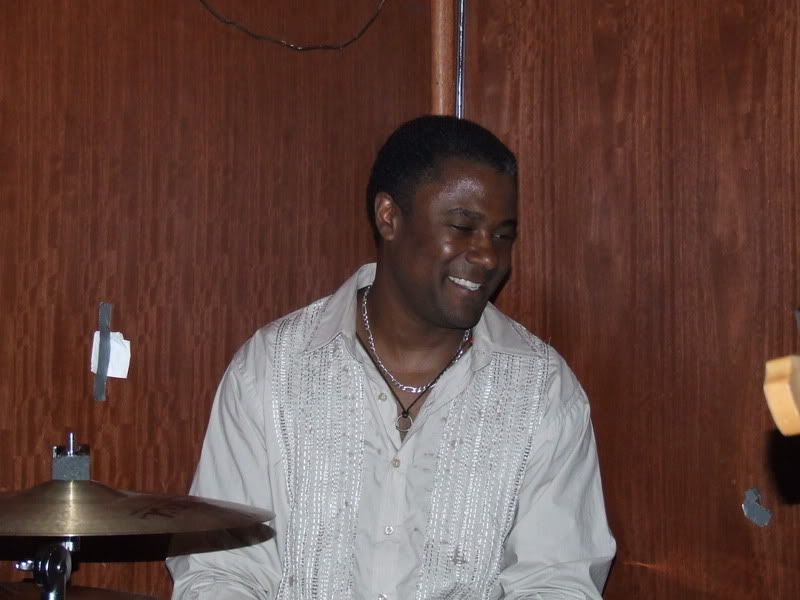 "I am….your Back Door Man,
I am….your Back Door Man,
Well, the men don't know,
But the little girls they understand."
I happily ate lots of chicken right along with the band. You other mens eat yo' pork and beans.
I never did really bond much with most of the audience; it kept shifting with new tourists or something coming through. Lots of them didn't seem to be part of the "blues show" and looked like they were examining something very strange. Two rail thin young guys wearing Euro Flash clothes and alternately holding one shared bottle of beer for fifteen minutes did indeed turn out to be speaking Danish. They managed to stand in the middle of the dancers without ever once making a motion with their pelvises.
There were a few Blues type people who knew what they were seeing and getting into it. Somehow we all wound up in front of the band or along the wall near the band. Linda and Shauna appeared and within seconds had moved right to the front. I met the delightful BABC member Diane in the flesh for the first time and she cracked the existential wall good and hard with a big hug. It was so good I finagled another one and was rewarded with the woman's knowing crooked smile.
"I ask Sweet Mama, do she ever think of me?
I ask Sweet Mama, Do she ever think of me?
I'm broke and hungry, blue as I can be."
The slashing guitar was driving the room wild. As Ron would switch guitars, AJ and Ronnie would do funk grooves and make it even wilder in front of the band.
Breaks were odd. It was if almost everyone down the aisle along the bar was disassociated from the band and music. They were in circles blocking the aisle and you had to push through them. They seemed surprised and unaware there was a dance going on. Social chat at the Saloon, yeah, uh-huh. The people outside were completely unlike the people just pushed through, pan handlers, blues regulars, the slightly demented people Greg won't allow inside, the young people pushing up the sidewalk looking for the good times between the strip clubs and the Upper Grant bars, the young women looking more intrigued with the Saloon than the furtive young men.
Across the street the Cafe Trieste looked, as always, like an Edward Hopper painting.
I never did really get connected. As I pushed my way back inside I passed the cute little screamer. She was explaining to a guy who was putting a move on her, "I always wind up friends with Guys! It's Great! I love Guys as friends!" He didn't look as appreciative as I was at hearing this.
"Well I'm broke and hungry, ragged and dirty too,
Well I'm broke and hungry, ragged and dirty too,
If I clean up, Mama, can I come home with you?"
The second set was as packed as the first, and the third set too. I like third sets usually as the population falls and the band can play some of their more personal songs, but that didn't happen this night. Ron checked the crowd and piled on more high energy tunes with the look of the long time musician on his face, "Ah, one of these nights!" "Almost Grown" and "Baby, Please Don't Go" were the order of rest of the night.
Realizing I wouldn't get free of my mood and tired of being bumped and jostled I headed back through the mist to my car.
"Sitting here thinkin', will a matchbox hold my clothes?
Sitting here thinkin', will a matchbox hold my clothes?
Well I ain't got so many but I got so far to go."
The drive home was slower. When I got home at 1:30, my daughter was still up. "I'm just finishing up a Japanese Anime movie. It's way better in the original Japanese!" Yeah Baby, it's always better in the original. Thanks Ron.
Ron Hacker and the Hacksaws "Welfare Store"
Posted by Rolfyboy6 at 12:12 PM | Comments (0)
March 28, 2007
Nick Gravenites Concert Report 18 March 2007
by John Hulsman
When Nick Gravenites performs within ten miles and one stop sign from
your home, you really have to attend, even if he is only a special
guest and you have some concerns about the venue, the opening act,
and the featured performer.
The occasion was a benefit concert for Capay Valley Vision. The
venue was Club 88 in the Cache Creek Casino on State Route 16 in the
Capay Valley. Club 88 can be open to the casino gaming area which
makes for a noisy and distracting venue. Thankfully, for this
concert the heavy curtains sometimes used to isolate Club 88 from the
casino gaming area were in place.
The opening act was Mike McGowan (Yolo County supervisor representing
West Sacramento and environs, and sometime Horsemen's Club show
attendee, on drums) and the Mighty Delta Roadmasters (Geoff Goodman
lead vocals and harmonica, Steve Suchil lead guitar, and Rob Gonzales
on bass guitar). These guys have day jobs and I haven't seen them
listed for gigs very often, so I wasn't sure how practiced they were
or what they would play. They opened with a string of blues
classics: Let Me Ride In Your Automobile, She Caught The Katy, Help
Me Baby (I Can't Do It By Myself), Born Under A Bad Sign, and Sweet
Home Chicago. Their playing was better than I expected, better than
quite a few of the bar bands that I have heard over the years.
Although none of the front-men have what I consider to be a
commanding stage presence, you don't notice that while dancing and
the band encourages dancing. As the number of dancers increased, the
song selection turned to rock and roll: New Orleans, I Hear You
Knocking, Take Me To The River, Carol, and Treat Her Right. The band
closed with a Paul Butterfield instrumental that I can't put a name
to.
The featured performer was Barry "The Fish" Melton (Yolo County
Public Defender) on vocals and guitar, playing with Roy Blumenfeld on
drums, Peter Albin on bass and Bill Scholer on guitar. I had heard
Melton and Scholer perform an acoustic set a few years ago and they
had played songs mainly from the folk genre. This time they
were "amped-up" and really cooking. Melton noted that this summer is
the fortieth anniversary of the "summer of love" and if you were in
Nor Cal in the late 1960s, you instantly recognized the sound and
feel of this band's music. They started with some Melton and Scholer
standards: Babble On, Thirty Days, Got Love, Shoeless Joe Jackson,
The Dance, and Back To The Wall (which probably isn't the actual
title of this song). At times I saw the mischievous grin of a
preteen on Melton's face before he played a riff. At other times his
face expressed the strain of reaching the notes that he was playing.
He gave the frets, strings and tremolo arm of his guitar a heavy
workout on some of these songs. The band was really together and put
out a powerful, balanced sound that filled the club. Melton called
McGowan to the stage and he took the vocal lead on Walking The Dog.
With the crowd in the mood to dance, McGowan manned the drums and
Blumenthal came to the front of the stage and sang Mustang Sally.
This was a crowd favorite and brought out the most dancers of the
evening. I found myself thinking of the No Mustang Sally sticker on
Johnny Rawls' guitar when he played at the Sonoma Blues Festival last
year (the design of the sticker is also on the Sonoma Tunes web-
site), but I didn't mention this thought to the talkative distaff
psychologist who had taken a seat at the table that held my glass of
merlot.
When Melton called Gravenites to the stage, McGowan and Scholer
joined the audience. Gravenites introduced himself as an old
folkie. As if to reinforce the point, he sat or leaned on a stool
for most of his set and had his electric guitar tuned to sound like a
Dobro (which is how Melton referred to it when he requested more of
it in his monitor). Gravenites told a little story before each song
and opened with Sloppy Drunk. He reflected on the funeral of his
friend Peter Boyle and played Pride of Man, First Train South Carry
My Body Home (which probably isn't the actual title) and Get
Together. The set took a turn back to the blues with Southside
followed by Born In Chicago, with Scholer now back on stage playing
slide guitar. Gravenites honored an audience request for Drinkin'
Wine (performed similar to the Electric Flag version at
http://www.youtube.com/watch?v=rzXUJzC_oM0 ). Scholer's guitar
playing came into its own during this part of the concert. He seemed
to know or sense which way the songs were going and played guitar
riffs and solos that added to the feeling of the songs, while Melton
occasionally had a "what are these guys doing now" look on his face.
After the audience had settled down, Gravenites performed the most
fitting and ironic song of the evening. He didn't say what he called
it, but I imagine that it could be called Things Are Looking Down
(Since The Gas Station Left Town). The song laments the condition of
his hometown (Occidental), which he feels used to be unique but is
now filling with freaky little boutiques. It was a fitting song
because most of the towns along the State Route 16 corridor west of I-505 have lost their gas stations. It was ironic because one of the
purposes of the Capay Valley Vision organization is to develop a
viable economic strategy for the region and I suspect that they would
welcome freaky little boutiques if they would bring "vitality" to the
region. Gravenites closed the concert with Blues In My Bottle.
Even though the concert wasn't as heavy on the blues as I might have
liked, it was an enjoyable three-plus hours.

Posted by Rolfyboy6 at 09:40 PM | Comments (0)
March 24, 2007
Dave Workman's Forgotten Treasures By:Mo (3/07)
Hey Gang-
Just got back lastnight and man....it's great to be home!!
I happened upon something I just have to share:

I was in a hurry to get out that door that day but I just had to have some blues to listen to for the long drive.
I dug through the collection, digging deep for something I hadn't heard in awhile. As I was spinning my Cd carasol around a CD fell out. It was one I compiled on my computer and burned years ago. One of those homemade jobbies that's in a skinny little case that gets tucked away and forgotten about. No title, no label, and hidden amongst the more showy ones. So, I took it along for the ride along with a few others.
I get settled in, everything in it's place for the trip, driving along I was enjoying this thing I burned so long ago. It had Cold Shot by WC Clark, Some Ford Blues Band with Volker, Jimmy Johnson,and I was thinking to myself, "Self, you made a pretty good CD here".


As I hit Geyserville on the N 101, it came on- Dave Workman backing Albert King on "Born Under A bad Sign".
I was so excited to hear this again!
Then came on a few others I had taken from his MP3 page.
Aaaah geeze...can he play!!!

I remember now why I copied them although the recording quality sucked because of my computer at that time. I remember just feeling lucky to be able to get them to Cd format.

I remember going to his shows he has at the Saloon every other Saturday afternoon just to hear that guitar of his. Well worth the hassles of the weekend city hoopla.
I remember wanting and wishing he had a cd of his own stuff. Then out came John "Broadway" Tucker's new cd "Impromptu Blue" and I was very excited about that!
Dave would back him on this release.
Sure, it's great and all but it didn't feature any of that Workman guitar I was so wanting on cd. Although some fine backing, I was wanting that rippin' Workman. If you know of and heard him before, you know the guitar I'm talking about.
It screams out at ya. It makes you listen.
I got some of it at his Guitar Show he had a couple weeks back. It's the kind of playing that makes your hair stand up on the back of your neck. Me....I get "goose pimples on my goose pimples" when I hear it!
(I think that was Katie Webster I got that from)

So, that was cool. It made me miss those Saturday afternoons with Workman/Broadway shows. And the stories John "Broadway" Tucker would share during break were the best.
I enjoy stories just not too much on stage.

So, here I am, once again, wanting Dave Workman to put something of his own together. It is loooong overdue. Something with just his guitar works on it. Something that's features just his playing backed by a band of course but just don't be too generous to others ;-)

Sure, playing with Wendy DeWitt is something to behold but he's a bit more tame with her as well he should be. You don't want to drown out Wendy. The two of them together is beautiful and they go together wonderfully. He really plays much more gentler with her. I would love to have something where he just cuts loose and gets wild again! Tweak my eardrums, make my eyes pop out, and give me goose pimples on my goose pimples!
Maybe a cd that's a mix of both of them but mostly that rippin' Workman stuff. I love all his styles, Albert King, Carlos, whatever he wants, just play.

If you haven't, go there and take a listen.
I mean to his shows and his site.

http://bluzgruv.tripod.com/
Click on "What's new" and there they are.
They are not on the "Audio" page so don't look for them there.

Later,
Maureen
Posted by Mo at 08:36 AM | Comments (0)
Last Day "Jam" with Alameda Allstars & Daniel Castro By:Mo (3/07)
Oops....did I say "Jam"? I meant to say "Mini-Festival".
I heard that that's what we call jams now- Mini festivals.
Call them what you want but to me..... a jam is a jam is a jam...;-)

Every so often I need a whole night of Daniel Castro. It's therapeutic, cleansing, and just what the doctor ordered to keep me sane.
I anxiously wait for him to come up this way and even put off going to see him elsewhere in the bay area if I know he's coming here to Sonoma County.

I waited patiently for him to get on stage all through the Alameda All-Stars. Mark McGee was MIA and missed. They were alright but I was wanting some of that Daniel guitar along with that driving band of his. AAS played a nice long set.

I was getting the feeling it was gonna be a jam of sorts as I was watching all these musicians pile in the house. You could tell they were there to play and not to listen.

Daniel finally came on and did three great songs before he started asking others up. I've gotta say that Daniel does host one hell of a jam. I never see this side of him and it was just a shock that he was doing it. Yep, a great host and he makes a great jam master.

Usually when you go to a Daniel show, you get what the marquee says- Daniel Castro, and lots of it. That's what I've always loved about his shows. He gets up there and takes the reigns and it's his show. He really takes his shows up a whole nother level. A professional.

The players he had up were great for the most part but still, I'm not getting what I went for. I left early and went to bed.

Aaaah well...maybe next time. It wasn't bad for a jam. But a jam on a FRIDAY night at a venue such as this??
I know a few Hardcore Daniel fans that came late just to see him and left early. They were disappointed and left well before me so I'm not the only one.

Danny- I love ya and you are one of my favorites. Maybe next time just call it the Daniel Castro & guests just so we have a heads-up.
Aaaah well....maybe I'll get my Daniel fix next time.

Now, I'm sure people are gonna get upset by this but these are just my personal feelings and in no way reflect the masses.
And don't go gettin' me wrong.....I love all the players that took part in this jam. You gotta understand that every so often one just wants a show and not a Jam. Especially when that's what you think you're getting.
And I'm sorry if I seem irritable, I'm just going through Daniel withdrawals.
Gotta have that fix every so often.

At any rate....Last Day Saloon has some great Blues shows coming up.
I also noticed that they are now announcing "Limited Dance Floor" on shows where they are gonna have the floor filled with tables and chairs. That was cool to see. Not cool to have tables & chairs on the dance floor but at least we get that "heads-up". Thanks.
Charlie Musselwhite is coming (with limited dance floor), and so is Joe Louis Walker with Maria Muldaur. (No limited Dance Floor).
Volker Strifler with Johnny V are coming next month.
What a great venue for a blues show.

Great to see all those familiar blues lovin' dancers lastnight.
See you at the next jam.... I mean show.

Maureen
Posted by Mo at 08:35 AM | Comments (0)
March 22, 2007
New Orleans 2007 Mardi Gras Indians, a photo essay
My old friend Gallivan Burwell was a long time musician in Sonoma County and San Francisco. For the last twelve or so years he's been living in New Orleans. He sends these pictures of 2007 Mardi Gras Indians to let us know that the tradition of New Orleans Indian Street Parades struggles along despite the lack of help to the City of New Orleans.
Gallivan writes:
"With most of the Mardi Gras Indians scattered across the country, this year's Super Sunday was considerably smaller than in years past. Most of the tribes were represented by only a handful of their usual members. Also, there was only one gathering place this year, instead of two. In the past the uptown Indians have gathered at A.L. Davis (formerly Shakespeare) Park, and the downtown /mid-city Indians at Bayou St. John. This year the single gathering was held in Central City at Marcus Garvey (Taylor) Park because A.L. Davis is currently a FEMA trailer site. Recent 2nd line events have been marred by violence- there were shootings at last years uptown parade- but this year Super Sunday was peaceful, a uniquely New Orleans event on a lovely spring afternoon."
More on Mardi Gras Indians can be found here amd hereand here.
All photos copyright 2007 by Gallivan Burwell, all rights reserved. Permission to copy is not granted without prior permission.
The Parade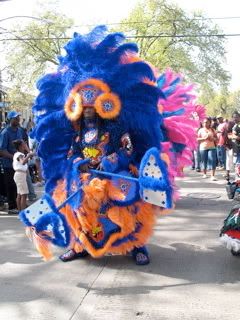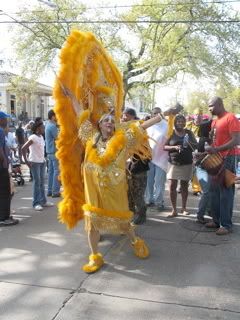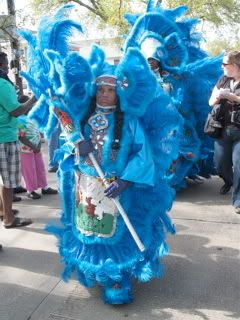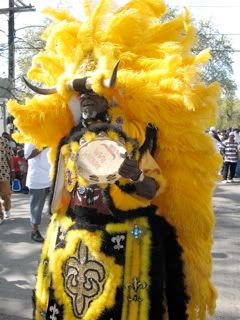 Fantastic Feathers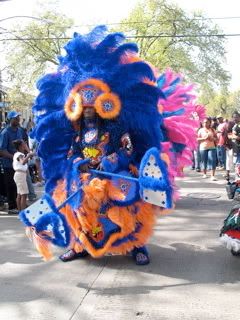 Closeup of the incredible beadwork that is worked on all year long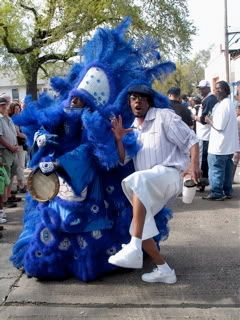 It's a part of the popular culture of the City of New Orleans
It's a family affair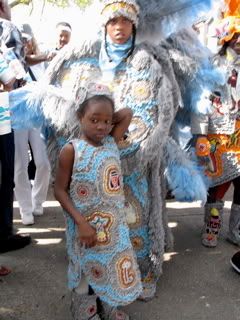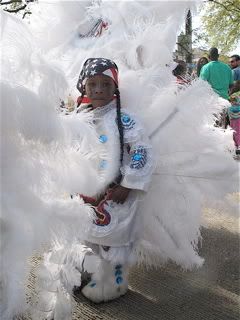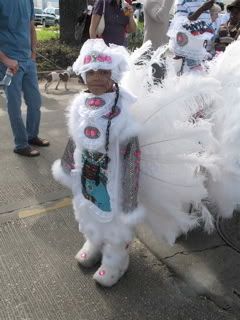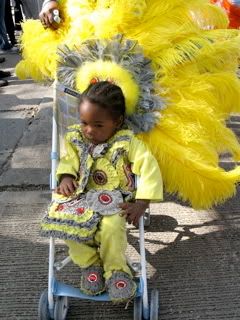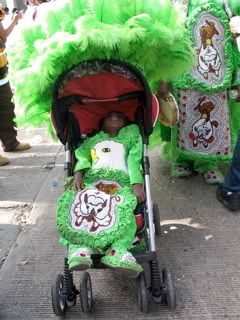 Historically, there could be trouble between "tribes", sometimes not so historically trouble has happened among spectators and people marching and frolicking in the "second line" following the Mardi Gras Indians.
A sign about a previous incident a year earlier: "Abbe was already a touch nervous in Central City. When I pointed out this sign to her it didn't exactly help."
Posted by Rolfyboy6 at 06:29 PM | Comments (2)
March 16, 2007
Volker Strifler Band at Little Fox Jam, Redwood City, CA 3/14/07"
Volker put the pickup over in the left hand lane and brought the speed up to an even 70 mph and we started making regular time down 101. Mike Emerson laughed, "We're a carpool, three of us, I've never been one before." Working the reverse commute down through Sonoma and Marin Counties we made good time.
Mike talked about his years in Arcata in Humboldt county, "Love the place, it was home, I lived there twelve years. I finally had to move down nearer the 'big pond'. The pace of life is so different up there. I was up there in the health food store about a month ago and people said, 'Hey Man, how ya doing? Haven't seen you around lately" "Oh, I moved three years ago." "Ohhhh."
Volker tried to give the Golden Gate Bridge toll taker five bucks. She said, "Carpool. Carpool." Volker really hadn't been a commute time "carpool" before. Musicians seldom get the chance to use the special rush hour rules; their hours are normally different. We were pretty lucky most of the way down, only getting jammed up on the Bayshore Freeway twice.
Ah, the glamorous life of the musician: Find the right exit, find the right turns, find the venue, find a place to park, go into the venue and check for the way to do the equipment load-in. A back alley to the concrete passageway to the rear entrance meant quite a hauling of Mike's two keyboards and Leslie speaker. Luckily, there was a flat dolly and we wheeled it in. Gary Silva's drums were already set up at 5:45. Mike set up his rig and Volker located his spot and the power supply. Vince Caminiti the jam master had everything in hand. Jack from Jack's Blues kidded me about being a roadie. He didn't know I'd been one long ago. Liz DiGiorgio set up the CDs for sale.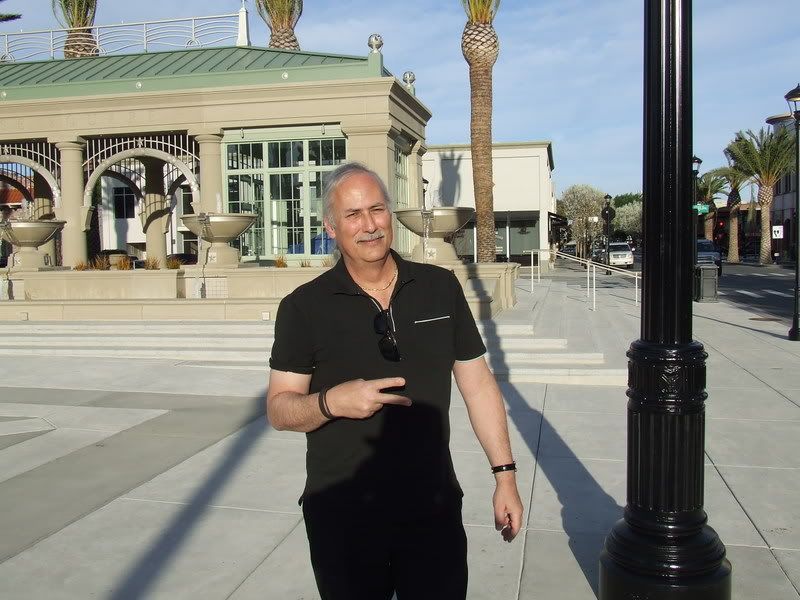 Jack demonstrates Yooper cheese cutting method in Minnesota
all photos by rolf olmsted, all rights reserved
Finishing set up, Doug on far right checking Daniel's rig
I'd never been to the Little Fox before. It's a great spot for shows under 250 people. It's got that 1920s golden pre-WWII California look and feel. It's two levels with a great balcony seating area. This means there's a great dance floor in front of the band with chairs and tables to either side. Right across the street is a Neo-classical town hall of the finest kind. I understand that other blocky buildings were built around it in World War II. The City has finally restored it to glory. Great town square in front where the Redwood City Blues Festival will be held.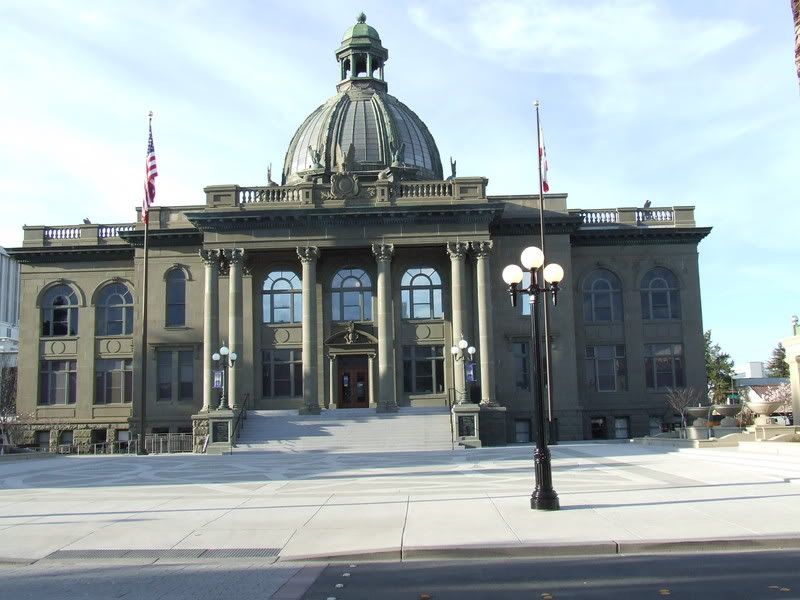 Little Fox Theatre and Redwood City Old City Hall
Daniel Castro got set up with his usual care and was ready to go. As he sat waiting on the side in a chair, a look of tiredness and melancholy passed over him.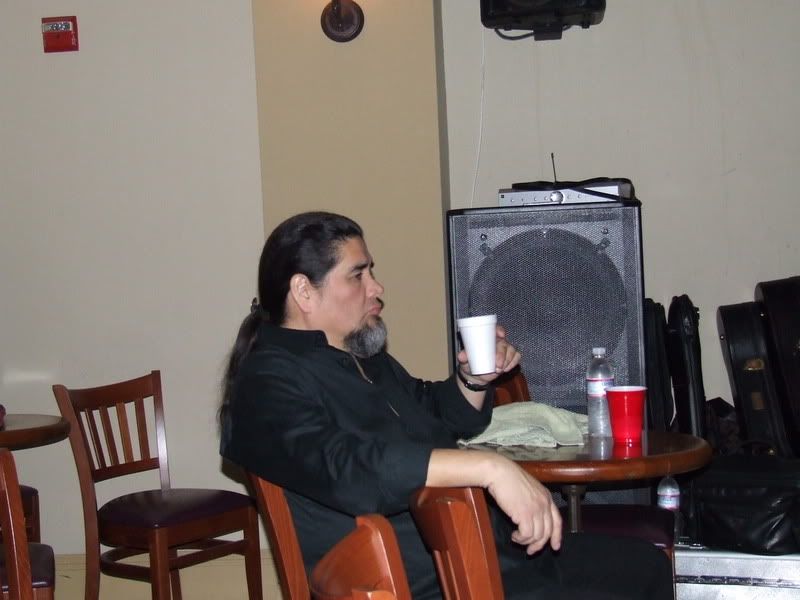 So many gigs and the struggle for the recognition his talents deserve and the chance to just sit alone and quiet for a few minutes gave him a great stillness for a short period. As soon as the music started he cheered up.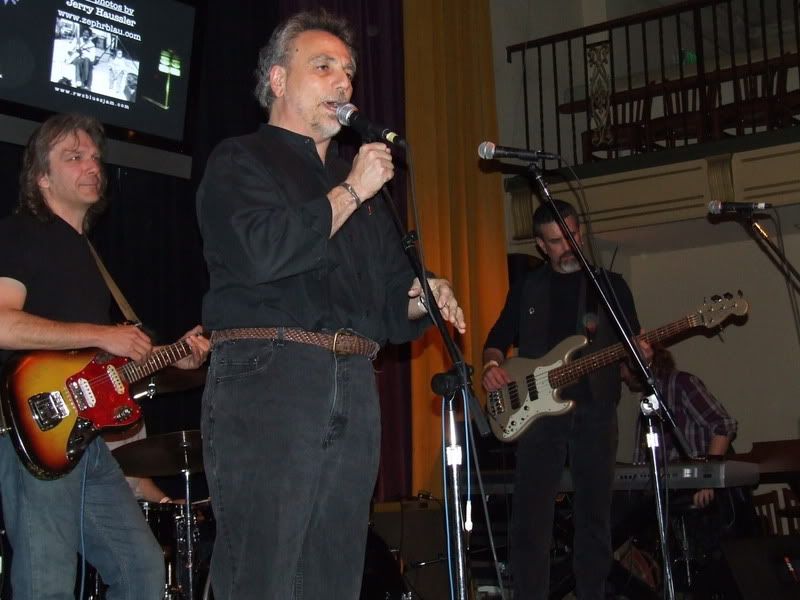 Vince Caminiti opening the show, Volker Strifler and Don Bassey ready to go
Vince hopped on stage and announced, "Welcome to the Redwood City jam and here's this weeks host band, The Volker Strifler Band" and they were off. With Don Bassey on bass (a new custom five string), Gary Silva on drums, Mike Emerson on keyboards, and Andy Just on harmonica, they powered into "Struck by Lightning" and it was hot from the beginning. Wild solos on the first song! It was great to see everybody so loose right away. Andy Just really impressed me and Mike really showed me again just what a great keyboard player he is. Then Volker soloed and people started yelling as his different scale choices made for that distinctive Volker sound. The crowd which had been wall hugging suddenly came up close to the stage. Those who hadn't seen Volker before were watching intently. "The Dance Goes On", Volker's new 'hit' was next. It had a new Volker solo of restraint and a spacey feel of subtle feel. He's almost always 'new'.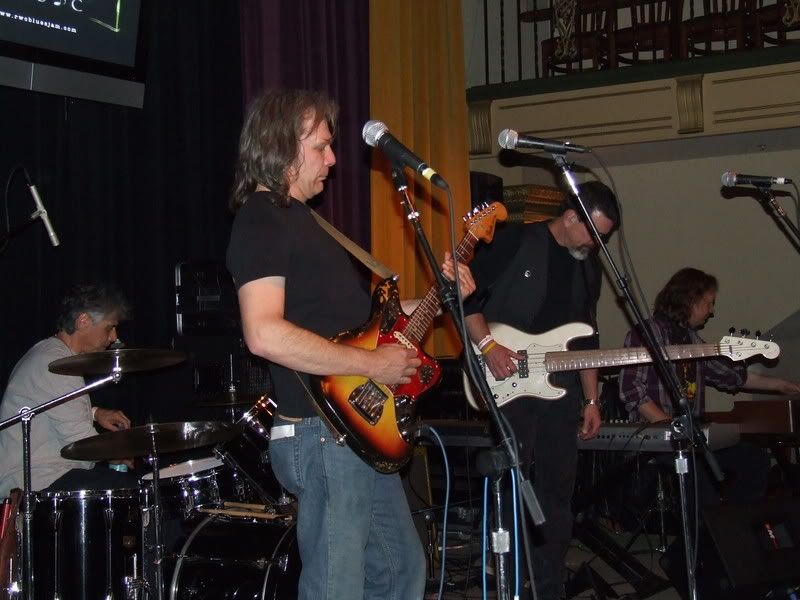 Gary Silva on drums, Volker Strifler, Don Bassey, Mike Emerson on keyboards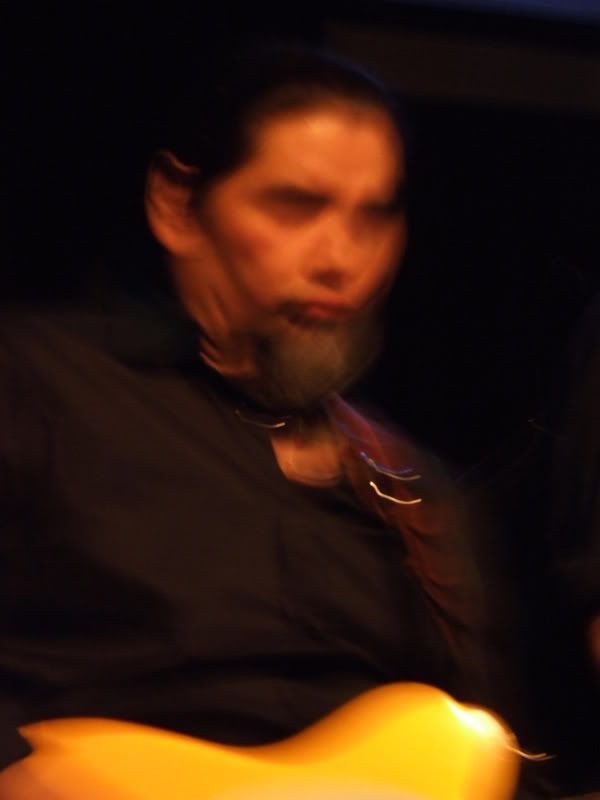 Daniel Castro
Daniel Castro who'd been smiling at the side of the stage got up with the guys and counted out "Let the Good Times Roll" and did a jump rhythm swing out. Volker did a first solo all on the low strings and first position, the exact opposite of the "screaming" solo. Volker continues to surprise me. Mike Emerson did a solo of power as the dancers came out on the floor and the standers moved to the sides. Swing dancers had enough room still and made the most of it while they could, particularly a pair of Lindy dancers showing how it's done. Andy was knocking me out with his harmonica, he sure can play both solos and rhythm harp and back up the other musicians.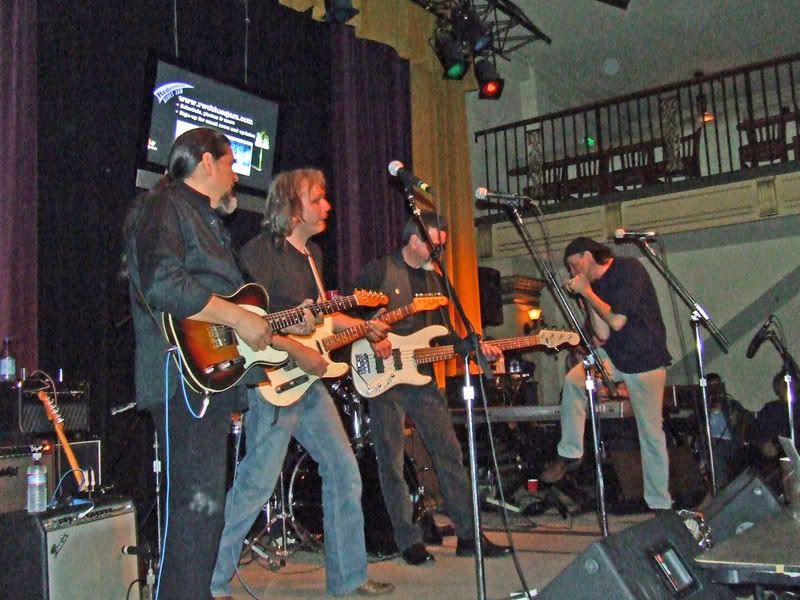 Daniel Castro, Volker Srtifler, Don Bassey, Andy Just on harmonica
A slow great intro by Daniel led into Andy singing "Blue and Lonesome" followed by a huge sounding solo by Mike Emerson. Andy did a tremolo solo which was OK, and then a Volker's solo just drove me nuts as he wildly played the interior scalar parts of the chord changes while never playing the bottom note of the chords. Harmonic invention that kills! "Moving On" started with the VSB's standard arrangement and Volker did a fine solo—and then they brought the volume and rhythm way down and Daniel did a hard, almost "Albert Collins," quiet scream solo that went right through your body.
"One More" said Volker and they played a hot near shuffle that was way over the top as everyone went full out. Mike Emerson did a great solo and his organ parts satisfied.
Mike Emerson telephoto enhanced
Set break allowed me to meet a bunch of folks and say hello to friends. Hi to LeAnne, Linda, Shauna, Doug, and Bev. Plus, a much longer list. I wish I'd met even more folks there.
The second set was Amy Lou and a band of regulars whose names I mostly have no clue on although it's Ray-Ray Figueroa on bass, John Lull on sax, and "Scott" on guitar. Amy Lou did a real strut on "I Don't Want Man Telling Me What To Do" and then Ruth Brown's "5-10-15 Hours Of Love." This set was a lot of fun and high quality. If this is the standard of the Jam then the standard is very high!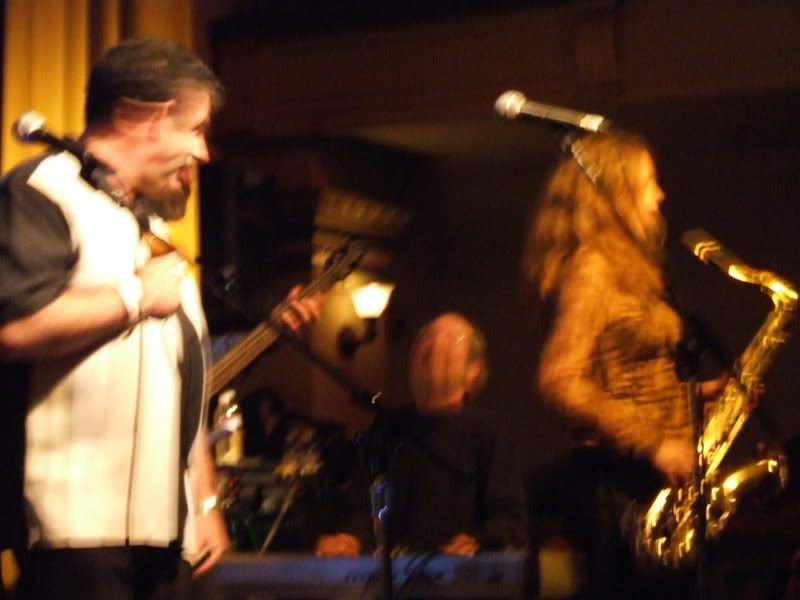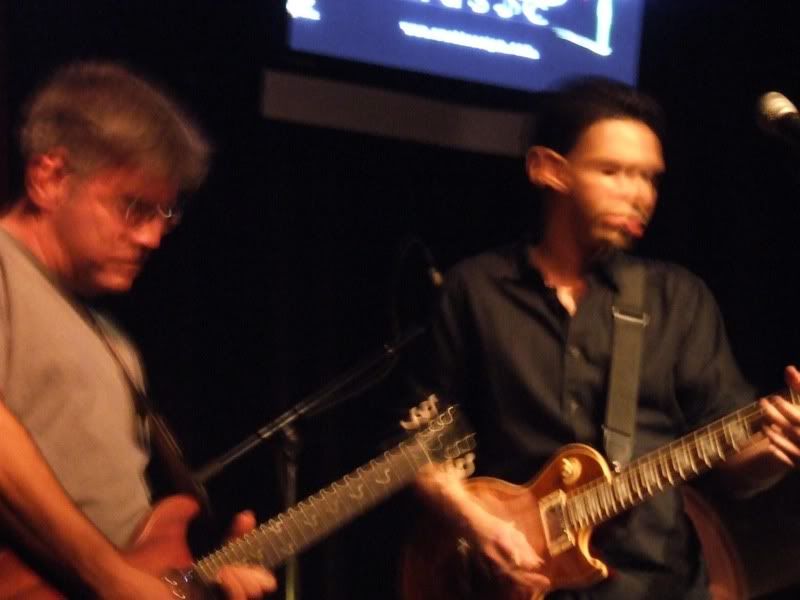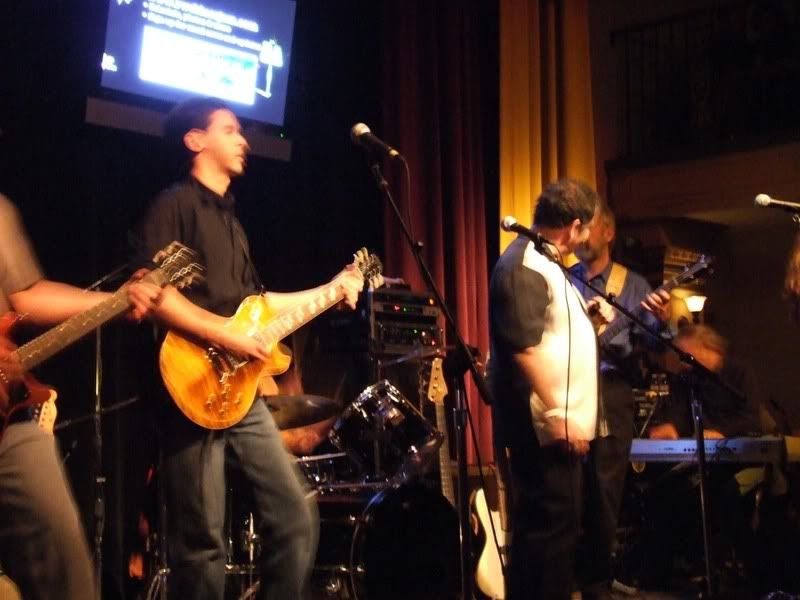 A set of jammers led by Greg Heumann, and including Walter Hern on drums, the mysterious Jennifer on tenor sax (who I seemed to take a lot of photos of for some reason), Eric Selenger, Ira Kart on keyboards, Scott Malcolm bass, performed a set of strong tunes that a lot of the viewers liked a lot. Lots of good harp playing.
Ron Hacker and Don Bassey
Ron Hacker got up on stage with Don Bassey on bass and Gary Silva on drums and did "Diving Duck/ Worried Blues" in that old Delta slide style. Powerful stuff! Andy Just joined them for a Slim Harpo type hip shaking rhythm. In all there were three songs from the slide monster. It's good to have Ron back. I'm looking forward to hearing him at the Saloon.
Somewhere in here Allyson Paige did a fine set with a band of Jam regulars and she sounded good. I was beginning to lose it on taking notes and I was taking pictures and so distracted.

Volker Strifler, Carl Bowers, John Lull
The Volker Strifler Band with Daniel Castro on guitar and Carl Bowers on trombone and John Lull on tenor sax got back up and did another powerful set.
Five second accidental video clip of "Struck By Lightning" with real bad audio
accidental video by rolf olmsted for wrong button productions
"Struck By Lightning" was a powerhouse. People howled during "Somebody Help Me!" Great horn section. Daniel and Volker did the solos that make people drive distances to see them and the rhythm section was a power. Mike Emerson can play the organ for me anytime. Jelly Roll Burgstahler joined them and did "Hootchy Cootchy Man" with his standard slide. Andy did a great solo. In all a great set.
The next set of the night was the 'surprise' set. Tia Carroll had been set to sing joining a jam group, and then her whole band showed up! Tia has a huge voice and her back up Marla Goody has almost as big of a voice. By this time I was losing it as far as taking notes and I was in musical overwhelm, the night's music had been that good. Tia's set was great.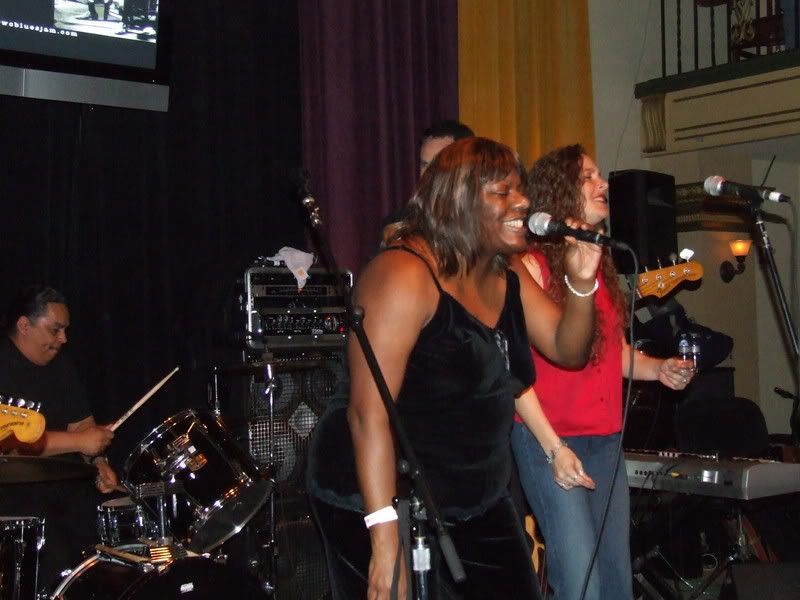 "Tia Carroll and Hard Work" with Artie Chavez on drums; and Matthew, Pierre's friend from France, and Pierre LeCorre' on guitars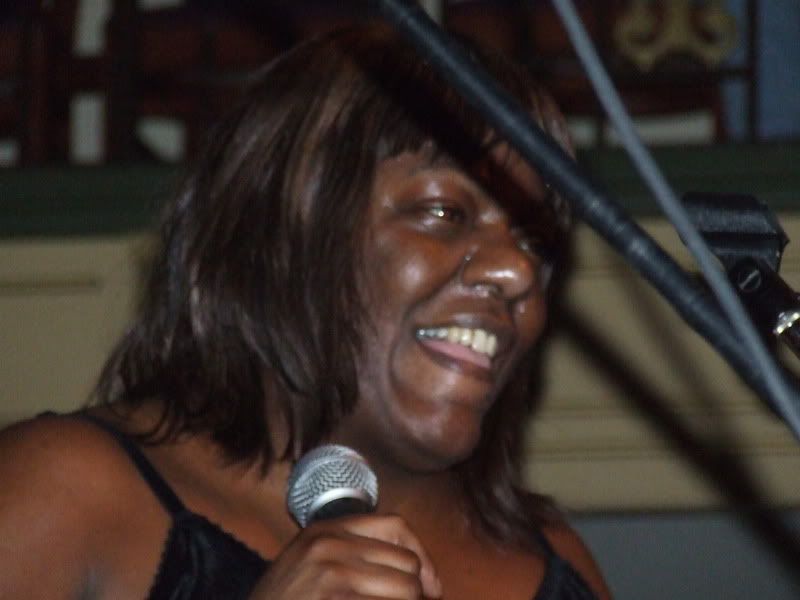 Tia Carroll and Marla Goody
The final set was Shauna Marshall's with some of the Jam regulars (again I apologize for not knowing names). She sang a short set of Blues standards in her "baby" voice. Singing with people she'd never played with she held her own. The place was clearing out and it was just fun time.
Then it was over and people mostly left and it was just the band members and musicians emptied out a bit from the playing and getting it together for the load-out. Volker collected the tip jar that would be the only pay for the night and began figuring out the payout for the musicians. Mike Emerson waited a little for the stage to clear so he could take apart the keyboards and load. After getting the dolly I went outside for a breather after finally meeting Artie and Gale Chavez (the remodel citizens) in the flesh.
Daniel Castro and Doug loaded out as Don went for his truck. As Daniel got ready to leave Volker came out and tried to give Daniel a share. "No Man!" said Daniel. "No money! You guys show up at my gigs and play for free. No money, Man." This sure 'nuff told me something about both these guys. Real musicians, real gents.
Standing around I got to hear the post mortem, always fascinating, never repeated. Looking in I saw that Mike was now able to load out his gear, and while Volker got his truck around front, he loaded and we pushed his and Volker's stuff out front. It's surprising how little strength you have left after a long show and how heavy the lift into the truck is.
What a hell of a night, stars abounded, I didn't know more than half the names, I was totally blown out with the combination of Volker and Daniel Castro and their different, but meshing guitar styles.
On the pro musician's long lonely highway north Mike said, "It's a long drive down, and a longer drive back."
Video Clips by Bobbi with lo-fi distorted sound
The Three Best are probably:
The rest (bad sound is a given):
Clip 1
Clip 2
Clip 3
Clip 4
Clip 5
Clip 6
Clip 7
Clip 8
Clip 9
Clip 10
Clip 11
Clip 12
Clip 13
Please send names, corrections, and additions to rolfyboy@sonomatunes.com
Posted by Rolfyboy6 at 04:40 PM | Comments (4)
March 15, 2007
Guitar Show at Biscuits/Charles Wheal at the Saloon By: Mo (3/07)
When I first got wind of this show, I knew it was a must. I didn't make any plans because I'm becoming more of an impulsive kinda gal these days. It all depends on the work load of that day and the following day too, money, the mood I'm in, and a lot of things.
Well, I got off work and took one hell of a nap. I almost slept through it.
Got ready in a hurry, scrounged up some money, filled the tank, put in my Southside Slim CD, and I was settled in for the ride.

The ride alone is worth a mention because it was beautiful out!
Finally making it to the Golden Gate, I was driving across, taking my time and enjoying the view. To my left was the sparkly city with all her glory just looking so bright and beautiful, and to my right was the Pacific Ocean just calm and still as if it were a sleeping giant. The sky was a glow with oranges, pinks, blues, purples, it was a sight to behold.
The best song on the CD was playing (5-steps) and it all just came together so perfectly.
I was sorry to see that short ride across come to an end.


It seemed pretty busy in the city and with a few close calls in Union Square I thought it best to pull right into the garage so I did.

Got there just before start up time even though it was after 8pm.
They took to the stage and off we go.....

There they were, Four guitarist lined up on stage and I was getting more excited. They did a number or two passing the solos around and then Dave W. had two people leave just to "Thin out the texture a bit" and it worked.
David Bernstein and Chris Cobb were left and man....these two really compliment each other.
Chris announced an old war horse, "Things I used to do" and it was great.

You know....everytime I hear someone cover that song my expectations are a bit high. This one here nearly met them.
It's a beautiful song when done right and they damn near did it right. David Bernstein had what I was wanting to hear from this song. That guitar that is the tell-tale sound of this song, I don't how to explain the playing I'm talking about but it's just that lonesome guitar that just rolls around and around in a circle. I'm sure ones who are familiar with this classic knows what I'm talking about.
The original guitar playing that goes with this song seldom makes it in the covered versions. Joe Beard does one of the best versions I've ever heard.
But like I said, as Chris Cobb was doing his version of it, David was in the back, playing that sound I was so wanting to hear through out the whole song.
It was refreshing to hear and then it came time for his solo.

This guy David Bernstein is absolutely one of the best guitarist I've heard in some time. Just because it's something totally different. A new sound that's original.
The way he plays that guitar is unusual in itself. His fingers, the way they move, the way he hears the song, there is nothing predictable about him.
I'm not one to explain different playing sounds and styles but he definitely has some jazz in his blood. The way he mixes it in the blues is something you gotta hear.
David Bernstein- a must hear and see!

Then there was Sean Carney!!
Wow what player!!
He added some of that jumpin feel to the show. He got to cut loose on a few and man....I thought I felt an artery about to burst in the side of my neck and then he would finally let me down easy. Good timing too because I felt as though my eyes were gonna pop out if that artery didn't burst first!!
This guy is yet another amazing guitarist. I would love to catch a whole show of his with his own band. I bet it's a hell of a show.
Sean Carney got some great stuff in and made a fan outta me!

Chris Cobb...well, we all know about this guy here. What a totally different style. He's got that intense style and the guy rips!!!
I felt like we didn't get to hear enough of him and at one point later in the night, I thought he left. He was off the stage for so long and I didn't see him anywhere and then he came back. Good thing too because I was missing him.

Dave Workman-absolutely one of my favorite around these here parts! It had been way too long since hearing him.The guys does those cliff hangers, you know the ones that just leave you hanging until he pulls you back in. What a player. His Albert King is the best!!!
Damn, that last song "backstroke" was killer!!
Great way to close the night.
Thanks, Chris for getting that one in ;-)

There was just so much guitar and I thought I would be on overload but I wasn't for some reason.
I know the reason for that actually and it's because the momentum was lost with too much down time between songs and too much talking.
I love blues stories as much as the next blues fan, and proper introductions are fine with maybe some playing history with this particular band, but there comes a time when enough is enough and just play the blues!!!
Too much changing up all the time on stage and it seemed like when the momentum of a particular make up would just get going.... it was time to change it all up. I wanted more guitar, less talking, less change up time, I was there for a guitar show and I wanted more guitar dammit!
I liked the idea of putting together different combos but it seemed some were off stage more than on.

All and all, a great show!
Tighten it up a bit (less BSin) and it would've been perfect.
I have no time to waste with talk and talk is cheap. Just play the blues, baby!
Like I said, Stories are cool but too much on stage is just not what I want to hear. Now break time is a time to share that stuff or in writings, interviews etc....

Got to mention the rest of the band:
Wendy DeWitt on Hammond.
I was gonna get annoyed by too much of anything but guitar but it was a good balance. After all, it was dubbed a "guitar show", right?
Wendy is just so good. I love her version of "Messin' 'round with the Blues". When it was just her, the drummer and David Bernstein on guitar for a song, she was covering some amazing ground on that Hammond!!

The rhythm section would be Kent Brison on drums and Randy Bermudas on bass. Need I say more???
Sean's drummer was in the house and sat in for a few and what a totally different style he had! It had a stompin'/skippin' feel to it. It felt heavier. Like I said, I would love to catch Sean with his own band one day.

Let's see....John Nemeth was in the house and jumped up to sing a couple and damn....I can't seem to get enough of that guy!!
A must see this John Nemeth.

I pretty much had the dance area to myself except for little girl who was a jumpin all over the place, doing cart wheels and such. She was cute.
Met a very cool couple from Canada who put together a blues festival up there and talking with them, I wanted to go back to Canada with them!
No we weren't talking politics, just blues. Although I did try touching on politics, I pulled back because I felt my anxiety level going up and I wanted to relax, not get worked up.

Dave Workman is talking of doing this on a semi-regular basis and I'm really looking forward to the next one. I know he's got some great ideas up his sleeve.
Don't miss the next one. And for a jam. I don't get it.......
You people missed out.

After that incredible show, I somehow made it to the Saloon where Sir Charles Wheal "The English Gentleman" was playing. Found parking real close and made in time for the third set.

I ate two granola bars on the way there and they weren't sitting too well in my stomach. I danced a bit and it settled. Thank goodness too because that bathroom there is not one you want to get sick in. Of course, I could've spewed on the sidewalk like everyone else does. Ain't nothing worse than slipping on puke in North Beach! It's very slippery and I think it's from all the pasta and pizza mixed with alcohol ;-)

So, enough of this pukin' talk and Charles deserves a much better segway....

Charles Wheal is just so damn good. His style is sweet, clean, gentle, and precise.
He had The drummer from "Little Charlie & the Nightcats" with him and the bass player was Joe Kyle(?). I had just seen Joe with the Trailer Park Rangers the other night.
That guy gets around and what he does on that stand up bass is nothing short of amazing.
Wow, what a band!!! There was as much sound coming from that little ol' trio as there was from that full stage at Biscuits.
Charles is sounding really good. I'm sorry to have missed the first two sets.
The dancers on the floor were a blast too!

Got home with the aid of consuming mass quantities of junk and slept like a baby.
I'm still thinking of all that blues guitar work from five players and they all have totally different styles.
I wish I could've afforded a CD from Sean Carney & David Bernstein but I was busted. It's been a tight month and just getting there proved to be costly.
Shoot...I spent my whole entertainment budget on that last John Nemeth show not so long ago. I just had to go and buy all his CDs, didn't I?
I do have a few bucks saved for tomorrow night's show at the Last Day Saloon.
Daniel Castro will be there along with the Alameda All-Stars. Should be a good show. I missed the last time they played together there.

See you there or on the blues trail somewheres,
Mo

Posted by Mo at 03:41 PM | Comments (1)
John Nemeth at Biscuits & Blues By:Mo (3/07)
Took a drive down the 101 corridor to hear some blues Thursday night. This time the venue was Biscuits & Blues to FINALLY catch up to John Nemeth. I have been wanting to see a whole show of his ever since hearing him at some Benefit or something awhile back.
OK...Ok...maybe he was "sitting in" at someone else's show, I must admit. Like I said before....there are a few exceptions for it and he is definitely one of them.

I didn't send out the word about the roadtrip and was gonna go alone, and even made a reservation for one and then Dee called to what I was doing this weekend. She really wanted to go so she came along.
Got there and I didn't even want to hassle driving around looking for parking so I pulled right into the garage. I had that budgeted anyway. Besides....there was a couple of plays going on and it was very crowded down there in that area.


Walked in and Dee managed to get us a table right up in the front. That's where I wanted to be but didn't want to eat for it. I was not hungry for food but for was starving for some real good blues.
I was so excited to finally catch up to John Nemeth. What a fabulous singer. Probably one of the best to come out in quite some time. In my opinion anyway. I wasn't worried about who was going to be in his band because I've noticed he only has the best the bay area has to offer always playing with him.
I did hear that Kid Anderson was going to be with him playing that guitar and it just don't get much better than that Kid there!!!

What a show!!! The sound was perfect even being up front hugging the stage!
It was Paul Revelli on drums and Kedar Roy on bass. He had both stand up and electric and he can play both very well. What a band!!

John is a great singer but he can also play a badass harp.
But, it's his voice that takes the show. The guy can sing me the blues any ol' time.

He's got some pretty funny songs and the words are important to listen to. "You're An Angel" and something about being sent down here to wreck my life......
Pretty funny because you're going along taking the song seriously and then he comes out with that line and it catches you off guard and then you start to laugh.

"She Did Not Show" is even funnier. You start feeling sorry for the guy when he talks about being stood up by a mail order bride at the Golden Gate.
He gets stood up through out the song but that last one is the best.

The one thing I really like about John is that he writes. It's great to hear some fresh new blues. I know it must be hard to come up with an original sound in the blues but he does. It's impressive when a blues player can do that.

Did I mention his singing???
If you haven't yet....you've gotta hear this guy!!
Like I said....one of the best voices I've heard yet on the scene. I thought I heard some Darrell Nullsch kind of sound on one of his CDs I was listening to yesterday. Just making a point that John is right up there in that vain of singers.

Sure wish someone with a dance floor would book him up here in Sonoma County. But for now...I'll just venture down there to see him.
I suggest ya'll do the same. You will not be disappointed.
I picked up all his CDs he has available. I was going to get two of them and threw down $40 and said "keep the change" when he said, "Here take three for $40".
I said, "What? What a deal!" and he said, "See, what I'd say....Just call me crazy".
"Ok, you're crazy" I says.
That went back to the last set where we all were suppose to call him 'Crazy' for some reason I can't remember.

What a great night of the real deal. A stage full of professionals and no BSin'.
Oh wait....we did have one person sit in and he is one of the other exceptions to the rules about letting people sit in....Elvin Bishop.
He was hanging out in the back all night. He came up and it was incredible!!
The first number he and the kid did some amazing stuff together on them guitars and then the second song was even better! Elvin broke out into some stomp number that was just the best!!

John's Cds are great and all but you have to hear him Live because it sounds so much better. I'm not sure what it is about the Blind Pig release "Magic touch" but it doesn't do his voice justice. I mean it's a real good CD with some amazing players backing him on it but it sure don't sound the same. His voice I mean.

The song "Every Night About this Time" on his first CD 'The Jack of Harps' is one of the best renditions I've heard of that song yet.
The singing, the guitar work....it's all there. That guy Mike Trail is a great guitarist whoever he is.

Look out Darrell Nullsch for John Nemeth is on the scene and I just know the Blues World will be talkin' a lot about this guy. I know our bay area blues scene already is. Sure wish blues folks up here in Sonoma County could hear him.
What a show....


Left there, got turned around and we were in North Beach and driving by the Saloon before we knew it.
We didn't even know who was playing there at that time but saw the sign and it said, "Steve Freund". I said if parking was open on the street then we would go in. Sure enough, there was. Great to park in North beach at midnight.
I know...I know...I should've stuck with the plan and just get home and to bed since work was approaching fast but what the hell.....let's take a chance here.
Got there just in time for break. Stood outside and BS'd with people 'til they started again. I was hearing that it was a crazy night at the Saloon and we missed a good one.
Apple Jack was there and saying his goodbyes as someone was telling me that he sat in for a few and that I was bummed about. Bummed to miss, I mean. He's another one those Exceptions- a professional. This guy can sing!!
It would've been a great way to end this great night of blues singers, I thought. Aaaah well......

So, this last set with Freund was alright. I caught a glimpse of his guitar work due to the fact he had two others' there for the whole entire set. I'm not sure who they were but they were decent. That's alright because I expected it and I always expect it from Freund. Something about a "Chicago Tradition" having people always sittin' in and so and so on.....
Hey, I can appreciate that. A professional jam master is what this area needs to keep it going. I do respect the Chicago tradition thing and all.
I just know what to expect when/if going to his shows, that's all.
Too bad too because the guy can play and is one of my favorite blues guitarist and can he ever sing!!
To catch a whole night of nothing but Steve Freund would be a real treat.
The crowd that was left was a lot of fun and I could tell it was a doosey of a night.

We left there and thank goodness Dee brought lots of sugar to keep me awake for the drive.
I got an hour and a half sleep and it seemed like a whole night's sleep. Thinking of the show at Biscuits kept me going just as I had hoped.
I love when it's that good.
Came home after a long day of work and still no sleep. Took the dogs out for a run, hung out for some fun with my honey for a bit, our Daughter came home for a visit and finally....around 8pm, I was out!

My plan was to hit the Tradewinds lastnight to check out Bluestate but never made it. I heard they're a decent band with a horn section to boot!
I'm sorry I never made but maybe next time they come 'round.

Tonight??? MoFo Party Band at Monroe Hall!!
I am so glad they're up here again. If you want a show that's not only great to hear and dance to but to watch....
....don't miss this show!
8pm -11pm so it's early enough.

Later,
Mo
Posted by Mo at 03:38 PM | Comments (0)
Trailer Park Rangers at Sweetwater By: Mo (3/07)
I was so impressed with their short set at the Raymond Jax benefit last Sunday, I was still thinking of it by Wednesday.
As I was sitting, surfing the web on a Wednesday night, kind of bored thinking of going to bed early, I pulled up their website to see where they'd be coming up. By golly.... it was that very night and in no less than an hour from the time it was.
I hadn't even eaten yet but I did get a shower in so off I went, down the corridor, to the town of Mill Valley and the Sweetwater Saloon. They started at 8pm it said but that usually means 8:30 or later by their standards there at this venue.
That's alright, I got me a flavored water and had a seat at a table right in the front. I was looking around at all the pictures on the walls and thinking of all the great shows I've seen at this tiny place. The best shows are those during the week. Weekends are packed no matter who plays. I also noticed, I was in front of the PA so just maybe I could actually hear some vocals. Dave Carter's song lyrics are one of the most important parts of the show. He's a pretty funny guy.


This is an amazing band, I must say. At this show in Mill Valley he had his fiddle player and that was an added plus. He wasn't at the benefit but they were still awesome.

I wanted to get another CD of theirs but was tapped out at the moment. That John Nemeth show did me in along with other unexpected expenditures this month. I'll pick one up the next time they come to the Tradewinds. They play there often. At least they used to.

The part about this Sweetwater gig I really enjoyed was just sitting and watching them. Sure they had a dance area right up front and that was appreciated but I was down for the count on this night. I just want to observe them for there's so much going on. All these different sounds that just wrap around each other, it's amazing. Everyone is doing something totally different but it all comes together to make this Trailer Park Ranger sound. I was reading on their website and still no clear description of their music. It's everywhere from Americana, Ska, Jazz, Rockabilly, Roots, country, circus music, some blues, but the description I liked was a "Fusion" of all those things.

The most fun about watching this band was watching Dave lead them. He leads them and they follow. He plays guitar and has no hands free to lead with but he uses his body. His head, his mouth, his whole body. They just watch him and change with his motions.

They opened for some other band, I guess. A band called The Blue Bellies. Never heard of them but they were dragging their equipment in as TPRs were playing. I'm assuming they were some kind of Alt-country or something and I didn't stay to find out. I was starving and very sleepy. I stopped at In & Out for a burger which I got all over me and the van but man.... it was good. I love their fries. Got home and went right to bed. Slept great and awoke with their tunes still in my head. They have been in my head since. I've been listening to the only CD I have of theirs "Lullabies Of All This Mess" for the last couple of days too. I want some more.
I'm hooked on these Trailer Park Rangers and will be following them around. Right now I do believe they're in Texas but will be back soon. I don't see any Tradewinds gigs but I will be keeping an eye on their where abouts from now on.

http://www.trailerparkrangers.com/

Later,
Maureen
Posted by Mo at 03:36 PM | Comments (0)
Raymond Jax benefit at the 'winds By:Mo (3/07)
After a nice day with our baby girl, I headed over to the Tradewinds to check out a benefit going on for Raymond Jax.

Parking in the ol' Tradewinds lot was out of the question- it was packed! People were spilled out onto the sidewalk and all over out back in the lot. It was great and it was lookin' like old times there in Downtown Cotati!


I'm sorry I missed Righteous Fists of Harmony and The Bobby Young Project who were on earlier. Mz. Dee was in the house and she sang with Bobby and that I was really sorry to miss.
Even though being late, there was still plenty to be heard.
Walked through the crowd outside, gave my donation, wedged myself through crowd again and made it pretty near to the front and there.... The Pulsators were going at it!!

They were soundin' great with that original Pulsator sound.
It wasn't long before they had Tommy Tutone up to sit in.
I've been seeing his name a lot lately with the Pulsators backing him around here and all, and I have heard it before but I just couldn't place where I heard it from.
I mean, I know it was in the music world but of what genre and such, I had no idea.
So here he is in the flesh, not three feet from me, I'm standing there right in front of him, sorta dancing, just watching this guy. I'm wondering still who the hell he is. He takes us into some energized rock stuff-hard to explain but very original. He had some times where he would jump up and kick both feet up behind him and the energy from him was infectious.
I never recognized any of the songs until that 80's hit "Jenny I got your number..... 827-6309....." (or something like that) and I thought nothing of it and even thought he did a great job covering it!!
In defense of myself...I was very busy raising kids in the 80's and never cared for the 80's punk rock new wave sound much anyway.

So still clueless, at break, I was outside talking with a friend and we finally clued into the fact that that was indeed his song.
I'm not calling him a one-hit-wonder or anything but a co-worker (who loves his stuff and knew right off the bat who he was) told me he had another hit but couldn't recall it. Help?

He was a lot of fun. The Pulsators did a great job backing him and it couldn't have been that easy. Thanks Gang!

Next up was one of my favorite local other-than-blues bands.... The Sorentinos.
Ok...Ok....it has some blues in it but mostly it's a type of Rock/Americana/Folk/Blues....I don't know.... they're just great!
The songwriting, it's all about the songwriting here.
Danny has many under his belt.
Started off with one of my new favorites- Black leather Jacket.
I love that part, "You look goooood...in your Black Leather Jacket". The way it's drawn out in harmony is pretty cool.
Another original and then it was a mini-set if covers?? I don't get it although they do them well. Not much time at benefits and all and with all them great songs.... why?

They ended it with "Daddy Nicotine" which is an old favorite of mine written by Danny. Great band and every so often I just have to catch up to a whole night of....
The Sorentinos.

After that was The Trailer Park Rangers.
All I have to say is that they were my favorite of the night.
I know...I know... I don't get either because they venture pretty far from my idea of blues but it was just so....so.....so refreshing!
The guy is a musical genius that David Carter. The arrangements and the way the band just intertwines or weaves them together. It's a musical journey of sorts and it leaves you just hanging on and waiting to see where it will take you.
I don't know....that's about as good as it gets from me and don't even ask me to describe what sound it is because again...I'm clueless!
All great, GREAT players.

So far we've had some pretty great stuff from some of Sonoma County's finest original artist.

You know what...I almost forgot...Tommy Tutone and Johnny Campbell did an unplugged set that was fun. That was in between there somewhere.

After The Trailer Park Rangers was The Volker Strifler Band. I just love that Shufflelupagus instrumental he opens with.
It was a real good set from Sonoma County's rising stars.
Not much else can be said because we've already said so much about this band.

After that was A Case of the Willies.
Wow...it had been so long since I'd seen them!
Willy Jordan was funkin' it up! Yep, The King of Sonoma County Funk, Mr Willy Jordan. Actually, he don't live here no more but he's still the King of Sonoma County Funk. The guy can really play some badass drums but that commanding voice is what steals the show. That and that awesome horn section! Wow!
Willy, Volker, Carl, David, Glenn....love ya, Guys.
Sure miss you too.

My very first Volker Strifler sighting was with this band here about...I don't know... ten, twelve, fifteen years ago. Every once in awhile he would get to do a song of his during the night and I always wanted to hear more. I already had his very first CD, "Full Moon" -the one he did with his German band way back when and it is so good. It would frustrate the hell out of me him not playing his songs but aah well....
I've even got some old reviews I did back then for SonomaTunes.com and sure enough, I'm bitchin' about it.
Get to hear plenty of them now.
That song "help me"...is on all three of his Cds and I do believe a Ford Blues Band Cd too. I just knew he would go somewhere when and if he started focusing on his own stuff and it seems he is.

I missed most of Detroit Disciples and whatever else came after that because I was beat and work was approaching fast. My feet were really hurting for some odd reason.
The Disciples were sounding good as I was walking out the door but I was just happy I got to hear Tommy Miller sing one before I left. I love his voice.

It was just so much fun all the dancers, the crowd, the music, the place was packed, and it felt like the good old days hanging out in Cotati for the music.
There was much more going on but my main focus was the music and that's pretty much where I stayed.

Johnny Campbell and crew did one hell of a job putting it together and the music was just flowin' with rapid change ups and it didn't feel stressed at all. The line up was Superb and the sound was AWESOME! Hats off to the sound and stage guys!!!

Hats off to the Tradewinds for hosting it. It's too bad we have to have benefits but they sure can be fun. Sure brought back some great memories.

Mo
Posted by Mo at 03:34 PM | Comments (0)
MOFO Party Band in Santa Rosa By:Mo (3/07)
Saturday night I was anxiously awaiting. MoFo Party Band at Monroe Hall.
Walked in and it hit me- The smell. It was old and woody smelling. It wasn't a bad smell but just an old rustic smell.
I saw Bill Clifton and was saying Hello and I asked him, "Do you smell that?"
Brother Bill said it was probably the dead muskrat they had in an old antique trap hanging on the wall and I laughed it off thinking he was kidding. Well, come to find out later, it was true although I never got to see it.

What a great venue besides the sound. The dance floor is big and beautiful!!
I got there right before start up time at 8pm and hardly no one was there. Talking with Bill, he was hoping others' would find the place too and they did.


I didn't recognize hardly no one from this crowd and I am assuming the word got out from Bill Bowker and the KRUSH. After asking a few people where they heard about the show, sure enough it was true- The KRSH radio station. Thank goodness they promoted the show because I'm afraid it would've been really dead if they didn't.
Turned out to be a great crowd with lots of serious dancers.

They do serve wine and one kind of beer there just for future references.

The band sounded great but the sound system was a bit off.

The show was two sets and it was lots of jumpin' swingin' kind of stuff and a high energy kind of show.
They sure know how to get people up and on their feet, no doubt.
It was great to see you Bill, John, Cobra & Daniel. Thanks for coming up our way and layin' some of that high energy blues on us....MoFo style!

I hope this venue has more blues. Thanks to Bill Bowker for helping MoFo get up this way. I love when we get out-of-town bands every so often. These guys work hard and play for a living and it shows.

I was gonna stop at the Tradewinds to finish up the night with the Hell Hounds but had a big day planned with my daughter the next day. So I just stopped at the store for some half & half and milk and ended up doing my grocery shopping at midnight on a Saturday night. It was good to get that out of the way. Best time to go too. Only problem is that no one was awake to help me carry it in.

Later,
Mo
Posted by Mo at 03:29 PM | Comments (0)
March 06, 2007
Raymond Jackson (Raymond Jax) Benefit at the Tradewinds 3/4/07
Long time Sonoma County musician Raymond Jackson (Raymond Jax R&B Revue, Rage Axe Blues Band, many others over time) had a stroke Friday night January 5th, and was admitted to Petaluma Valley Hospital. He needs help with hospitalization medical expenses (no insurance), as well as physical rehabilitation expenses. His left side is compromised and on-going physical rehab is going to be the issue. All proceeds for the Benefit went to help Raymond Jax Rehab. The Organizer, Johnny Campbell of the Pulsators, thanks to everyone for their support!

Arriving early at The Tradewinds, I dropped off some program/schedules and shook hands with Benefit Organizer Johnny Campbell who had things well under way. Errands and parenting called me away from the Tradewinds. I got back at the end of the Righteous Fists set in time to hear "G-L-O-R-I-I-I-I-A: GLORIA!" Having heard that song a great deal for forty years I managed to contain my enthusiasm. I used the break to do the traditional Benefit milling around and mingling.
The Bobby Young Project showed a strong lineup, with fine singer Wylie Trass singing, "Pockets" on drums, Tarika Lewis on Violin, Bobby on guitar, Gary Novak on bass, and a good saxophonist who's name I didn't get. Waiting in the wings was Mz Dee with her huge voice. We were in for some vocal treats. They didn't waste any time getting funky and really got down. It was a soulful treat and first Wylie and then Mz Dee were pulling them in the doors, as the band laid down dance rhythm that filled the floor. Wylie's "Love and Happiness" was fine. Mz Dee had a powerful "(Standin' on) Shaky Ground" that drove the dancers and filled the house. Wow! What a powerful voice. This was a fine set and great to have early, it really set the tone for the afternoon.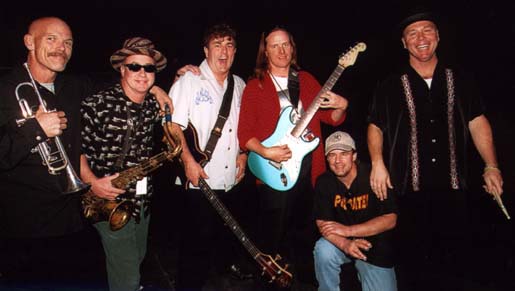 The Pulsators had a powerful set that was the cream of their songs. I danced a lot and I don't remember the set list. I do remember singing along on the fast chorus patter of "Do what you wanta when you gotta when you wanta" –or something like that. The interplay between drummer Johnny Campbell and bassist Mick Whittington is a powerhouse and guitarist Doug McKenzie and keyboardist Karl Marenko sure can comp and Pulsate all right. Nice solos by Doug and Karl and by Doug Clifford on Sax were a treat. Carl Bowers was sitting in on trombone and made a beautiful silvery sound with his horn. I loved his solo and the gritty noises he can make on command. This set was over way too soon, rhythm drive! Tommy Tutone joined the band and they did some of his tunes that were enjoyable although there were glitches. The sound level was really up there and would mostly stay way up most of the rest the night.
The schedule being behind, the Sorentinos set up quickly and launched into a set of well-known cover songs. I was only able to stay for three songs before I had to get home and fix dinner and parent for a while. They reminded me of Tom Petty in what I heard. Mo said she really enjoyed their show. The Tradewinds was now packed and there were lots of Sorentinos fans out on the floor.
Having cleared the decks at home and had a touch of quiet for my ears, I got back in time to hear the second part of the Trailer Park Rangers, < http://www.trailerparkrangers.com/> a band I've had an on-and-off thing with. Lord have mercy, they have some great rhythm and have added Latin rhythm to their sound. I had a great time tangoing through the crush with Tami (Hi, Sis) and having "dance attitude" on the floor. The TP Rangers had their drummer, bassist, and two guitars and it really worked for them.
The excitement had been building and people were still arriving. Faces I hadn't seen in a while were coming in the door and the crowd inside was dense packed. I got out on the floor while the band change was going on, knowing that otherwise I wouldn't get a space. Right up front was a line of dancers led by Mo and Terri and Lis.
The Volker Strifler Band opened with "Shuffleupagus" and it was just great. I don't quite remember which tunes were selected for the short 45 minute set, but I can recall a driving "Somebody Help Me." And then there was "Angel" with its chorus of "Just like a.., just like a rolling stone." I was on the side away from David Shrader on tenor sax and Carl Bowers on trombone and the densely packed bodies were absorbing the sound, but I could make out their horn lines if I concentrated and they sounded great. I was having a wonderful time dancing to the sound of "the Dance Goes On" and singing along to the chorus when I realized that people on either side of me were also singing, "…all a man wants is a little bit of Bliss!" We sure were getting bliss from the band. Suddenly it was over. That was the fastest 45 minutes I can recall! From start to finish it was the full up Volker experience.

It's just too darn long between "A Case of the Willy's" shows. Willy is going to high level (literally) EMT school and training to be an airborne medic. What with that and the fewer number of venues, the band doesn't play as much as it used to. I miss them and so do lots of others.
Funk music played really well is great and "A Case of the Willy's" takes it way beyond that. Willy has a voice to die for and his drumming is spot on and twice as funky. They came right out of the gate with "I Feel Good" and it never let up right through "Sex Machine" until Willy called for "In And Out of Love Blues" and they slowed the roll and let Willy's commanding voice loose on a slow one. "You call me to your side, and then you say Wait! --I think you're jiving me Baby!" I wish I could give you a blow-by-blow description, but really, it takes a full sound recording. Volker blew a few minds among his newer fans that didn't know he's a great funk guitarist. Glenn Sullivan on trumpet and Dave Shrader on sax did wild out there solos. This was one of the best "Willy's" shows I've seen, it was loose and over the top. The band just plowed through any miscues and went for expression and full open power. Wow.
I was tired and the call of kid at home came and it was time to go. I saw the first minutes of the Detroit Disciples. Saying goodbye to so many old friends took some time. My thanks to all the bands, I had a great time. My thanks to Johnny Campbell for organizing this and keeping it simple and reducing it down. I sure hope lots of money was raised for Raymond Jax and that his rehab and recovery works well.

Posted by Rolfyboy6 at 07:50 AM | Comments (0)
March 05, 2007
MOFO Party Band at Monroe Hall 3/3/07

OK, let's say it right out front, a lot of you missed it!
I arrived at beautiful Monroe Hall at about 7:35 for the 8:00 pm show to find Mo there, and only about ten other people. Oh, oh. I talked with the Clifton Brothers, who were visibly concerned that few were there. As we talked a few more people came in, many couples who hugged the walls and the benches with little interaction. MOFO put back their start time to 8:20 for more people to arrive.
The wonderful dance floor of Monroe Hall and its all redwood architecture right out of the old days of Sonoma County and the Redwood Empire looked so fine. It's a large hardwood floor with the best dancing qualities. Spin and shuffle moves are completely possible and people really get out and shake it. Mo said, "This place smells good!" The old redwood stills has aroma after 85 years. The warm color tones just make you feel good.
Old Blues friend Arman was not happy with the few there and said it wasn't his scene. He hung around for the band to start.
More people showed up, the band did their hot opener, and Mo stationed directly in front began to dance, a couple joined her and after surveying the people sitting along the sides I joined them. The few dancers on the floor gave a great view of the classic rigid-white-male-at-a-dance syndrome, with the women bopping in their chairs wanting to dance. The guys who weren't self-conscious stepped out with their ladies and the women who aren't afraid to dance on their own came out and the floor was pretty full. Cars kept driving in and the place filled up over the next hour.
MOFO was at full tilt and the power right out of the gate was pedal to the metal. I didn't take notes and so don't have the song order. It doesn't matter, I remember dancing my butt off on that great dance floor. "Howlin' For My Baby" was an early standout with Bill hitting the signature lick and John howling, "Wooo-Woo-Wo-Wooooo!" Since it was the full moon I repressed my urge to break out in hair. John didn't seem that repressed. We howled back at him from the floor. Cars kept arriving and the MOFOs got looser. The Clifton showmanship was turned up to ten and numbers like "You a Demon" and "Too Late" revved up the crowd. Lots of balance to this band, every member gets their star turn and John gets to blow crazy, Bill showed how much he really can play.
Cobra Finney the bass player sure does play that stand up bass and does great fooling around with it. Standing on it while playing it, laying it down on the dance floor and plunking it a-straddle are all fun showmanship. I hadn't seen MOFO in a while, so I don't know how recent drummer Daniel Burt's return to the band is, but I was sure glad to see him. He was the drummer for a long time and is the one who can keep up with these guys (that's a load!).
I admit I'm a sucker for the Little Walter tunes John blows on. Since every harp player the world around is a Walter authority I'm sure John's habit of playing Little Walter tunes as John Clifton tunes is sure to be analyzed closely. On the other hand, it sure makes the tunes lively!
I'm still not sure how the MOFOs manage to be pure blues and rockabilly at the same time. Sheer projection of personality and their sense of humor sure does fuel a lot of the fun. Shameless willingness to do the schtick bits and be corny while letting the crowd know it's for the fun of it is part of it. The other part is that they're so damn good at it. It was at another show that John introduced himself as "Overweight Elvis." He didn't do it at this show; they've got show bits in reserve.
No matter how much schtick gets served up it always serves the real music making and is always so the crowd has a real good time. And the Music is just so solid, the real deal is going on and purists like the MOFOs as much as the casual fan just there for entertainment.
Then there's Swamp Blues! Somehow four guys from Fresno sound swampier [is there such a word?] than most bands out there. They even write their own swamp blues/pop. "My little Voodoo Doll" and "You're A Demon, Baby" sure do have that deep murky tremolo sound and a touch of shiver. I love it. Both fun and slightly serious at the same time, with room for Bill Clifton to give those different swampy licks and riffs a workout.
I had one hell of a good time and you will too next time they come back here. At the end the hall was full, but not packed. The Monroe Hall folks probably didn't do as well as they liked, but on a cold night in March when they were going head to head with a big show up the road they did all right. I talked to the managers and they want MOFO back. I do too.
Posted by Rolfyboy6 at 03:24 PM | Comments (0)
Out of the Used Bin: Jimmy Dawkins
"All for business, Baby
I ain't got no time for play
Yes, I'm all for business, Woman
I ain't got no time for play
I say just what I mean
And I mean every word I say

If you think I'm playin', Woman
Then things ain't like they seem
If you think I'm playin', Woman
Things ain't like they seem
You better shake yourself,
'Cause you're havin' a real bad dream
The huge declaiming voice of Andrew "Big Voice" Odom fronts the searing licks of Jimmy Dawkins on "All For Business." Jimmy Dawkins is indeed 'all for business.'

I knew his name. I'd heard him on the radio and I had some songs of his on compilations, including some early work for Excello. His album "Fast Fingers" had given him a nickname and he was in articles about Chicago Blues. There it was in the used racks, the CD "Fast Fingers," along with three other Dawkins CDs. "Fast Fingers," is on Delmark, a sign of quality in blues and jazz records. The sidemen were legends, Lafayette Leake on piano, Eddie Shaw on saxophone, and Mighty Joe Young on second guitar. I took it home, but didn't buy the others.
Slipping it into the CD player I turned the volume half way up. A tremolo laden diamond-hard song riff by the whole band opened the first song and took me away. These days, few bands that do that particular ensemble unison with the guitar and sax and bass playing the same vamp. The Muddy Waters Band used to do that.
"Serves me right to suffer
It serves me right to be alone
It serves me right to suffer
It serves me right to be alone
You see I'm living in the memory
Of a day that has passed and gone
Every time I see a woman
You know it makes me think about mine
Every time I see a woman
You know it makes me think about mine
You see I'm living in the memory
Of a woman I've left behind
It serves me right to suffer
It serves me right to be alone
It serves me right to suffer
It serves me right to be alone
Now I'm living in the memory
Of a woman that has passed and gone
("Memory Pain"[a.k.a. 'Serve Me Right to Suffer'] by Percy Mayfield)
Diamond hard and filled with pain, this album is hard as nails Chicago lead guitar playing and tough understated vocals.
"This life is a hard road to travel,
But I know I got to keep on trying.
This life is a hard road to travel,
Oh, but I know I got to keep on trying.
My friends are all talking about me,
But I know I just can't pay them no mind.
They say: love don't love nobody,
now I believe this story is true.
They say: love don't love nobody,
and I believe this story is true.
All the good in the world you do,
Why does the wrong keep coming through?"

There's nothing cute here. It's uncompromising and tough as nails. It's like the voice of Old Testament prophets with cutting guitar added. Dawkins is as tough on himself as others. What might have been maudlin in other hands becomes tough confessional in his hands.
On a soaring lick he sings, "Please have Mercy! …I know I done you wrong." The "Mercy" rings in your mind. Ostensibly about love, it's really about all ethical/moral failure and the plea for forgiveness and redemption.
The guitar is so distinctive. You always know it's him when you hear it. Icy licks and screams from the heart. It's West Side style all the way, and with Jimmy Dawkins there's no hammyness in the playing, no million note runs. He has almost icy restraint in his notes and in his use of finger vibrato.
I went back to Last Record Store and the used bins. The other three CDs were gone. There were none in the new bins. I began to plot. I hunted his discography on the World Wide Web and found a French site devoted to him and got informed. Searching the Internet used and discount places and eBay on line, I found all three cheap and poorly labeled on eBay. Some smart collector beat me out on "Blisterstring" at the last minute but I was able to get "All For Business" and "Kent Shek Deez Bluz". I had to get "Blisterstring" from "Blue Beat."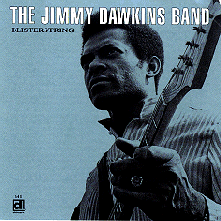 Where "Fast Fingers" is Chicago in the late 60s and clear hard Chicago Blues, "Blisterstring" is 1970s with a more varied song selection and shows the addition of jazz and soul into the blues. Kenny Burrell's "Chitlins Con Carne" and Little Milton's "Feel So Bad", as well as Little Walter's "Blues With A Feeling" are not copies or covers at all. It's the icy Dawkins playing and singing instead. "Welfare Line" recounts the tribulations of the industrial poor with the withdrawal of welfare in the first person. "Blisterstring" also has all-star sidemen including Jimmy ("Bar Room Preacher") Johnson on second guitar and Sonny Thompson (all the classic Freddie King King/Federal sides) on piano. A fantastic sounding band.
"Kant Sheck Dees Bluze" is very 1980s when Jimmy was working at being a producer and talent developer as "Leric Productions." With him on the CD are Nora Jean Wallace (now Bruso, a recent Handy Nominee) and "Professor" Eddie Lusk on keyboards. The rest of the band is again all-star with Johnny B. Gayden (Albert Collins, Staple Singers) and Billy Flynn on second guitar. This album is a more collective one, but through it all is the very emotional but icily controlled Dawkins guitar. No single song sticks out on this CD, rather the whole CD is a masterwork. An additional note: with this CD Dawkins begins his sometime practice of odd spelling.
"All For Business" is another slightly uneven masterwork, also done collectively. It's a 1990 CD. Andrew "Big Voice" Odom does most of the singing in a huge voice with thundering power. Otis Rush is on second guitar. Jim Conley does important sax work. Sonny Thompson is again on piano. "Moon Man" with its science fiction idea of moving to the moon to get away from Earth's problems, Andrew Odom's huge rendition of "Welfare Line" and the monster "Born In Poverty" are standouts. The best cuts on this CD can stand against any other modern Blues songs.
My "Jones" for Jimmy Dawkins is now back to sensible limits. Now I can wait for those used deals to just come to me out of the used bins. I'll be watching.
"All for business,
I ain't got no time for play
Yes, I'm all for business, Woman
I ain't got no time for play
I say just what I mean
And I mean every word I say."
A good biography and discography website on Jimmy Dawkins.
Another good Jimmy Dawkins website
Posted by Rolfyboy6 at 01:10 PM | Comments (0)