« March 2007 | Main | May 2007 »
April 29, 2007
R.J. Mischo at the Saloon 4-25-07
Ripping myself out of the shower after a workout, I motorvated fast for Mo's house and dived into the roadtrip van. I nodded for a while and woke at Marinwood. Making sure we had the right exit, we zipped into the wilds of Santa Venetia while Mo worked the cell phone in the best Buck Rogers style contacting Jack and getting his address. Touch down was accomplished on the darkened street with great pilot care, and Jack in black came out of the shadows. A fast trip across the bridge with stories by Jack, and through the City brought us to a magically open legal parking space on the corner of Vallejo and Grant directly in front of the Café Trieste and 30 feet from the Saloon. God's love is manifested in many ways, for Mo it's magically open parking spaces.
I'd come hoping that Kid Andersen would be sitting in. Walking in I found he was the guitarist for R. J. Mischo that night and I was very pleased. Especially when I saw it was Johnny Ace of bass and Walter Shufflesworth on drums. Yessss! A crew of present day veterans on a weeknight with an open house! There were several musicians in the house and more would show up over the night. Kid was running his fingers over a Fender Jaguar, not one of the most common guitars. He looked ready wearing safari clothes and a Kanga beret over his thick Norwegian hair.
Kid Andersen
For some reason the Saloon's lights were on very low and it was impossible to get photos. I gave up trying after a while and just went for the fun. R. J. had a blue tinted flashlight and he'd whip it out and illuminate the band members during their solos. Johnny Ace was doing his full showman act and the knee bends and soul flourishes were laid on hot and heavy. The audience was sparse and mostly knowing and the guys cut loose and played for themselves. Kid kept pulling licks out of his trick bag and then playing top quality rhythm guitar behind RJ. It was a feast for a guitar nut like me.
R. J. Mischo
R. J. had just gotten off a plane from his new home in the Ozarks for a tight schedule of gigs in the Bay Area. The band was playing together for the first time—sort of. They'd all played together with each other some where some time and they were comfortable with each other working out songs right on the band stand. I had the feelings of being privileged to watch a tight dress rehearsal that was going really good. Crazy things kept happening and the band would go with it. R.J. would call out a less common song and Kid would look at him while the encyclopedia of songs whirred in his head, he would then nod and say, "Oh Yeah," hitch his guitar and break into the intro. I didn't make notes of the songs, but they didn't do too many of the most common ones, they dug into the song bag. Several times over the show Kid appeared to be channeling Freddy King and did several of Freddie's less commonly done instrumentals. A guitar junkie's dream.
R.J.'s tone was simply outstanding and he really showed why he has such a following. I'm not particularly a harp fan, but I really dig what R.J. does. He's got a ton of chops and he really makes music beyond his instrument. His singing was fun too. He seemed to feel the hilarious juke joint vibe of the night and fed it right back to us.
His witty stage personality was full on and the crazed hits just kept coming. "Did I mention that we have CDs for sale? Yes, that's right, actual CDs! With music on them! The best kind! And these are really great ones! Come up and buy one right now! Did I mention that we have CDs?"
Along about the middle of the third set the day caught up with me and I faded and had to nap in the van. I'm told I missed Kid bar walking and playing to the Saloon mascot, the vertically challenged "Millie." I'm sorry I missed it, however it's cool, this was one of those great slightly unpolished nights of the real blues by four modern masters in a classic blues bar. Although I faded, I'm glad I made the trip. It was the Blues.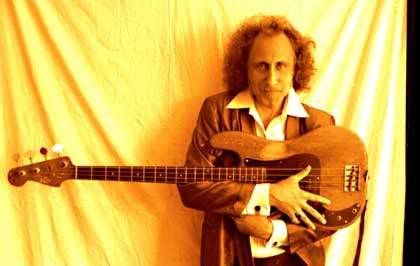 Johnny Ace
Sorry, no photo of drummer Walter Shufflesworth as no photo of him has ever been successfully developed.

Posted by Rolfyboy6 at 10:41 AM | Comments (0)
April 28, 2007
Volker Strifler at Last Day Saloon 4-20-07 Photo Essay
I let myself be late to the show; I was having trouble leaving the comfort of my home, my music collection, and my guitars. I'm having that trouble lately; only the top grade shows appeal to me now. Don't ask me to define that. It has something to do with originality and musicianship. I'm not looking for the usual stuff. Maybe I've seen too many shows; another medium rendition of a too-familiar tune isn't going to pull me out of the house. I've got better than that at home.
The Volker Strifler Band is something special, a band I know very, very well, yet a band that is always changing and adding new things in. A band of great players whose musicianship is impeccable, they support Volker's songwriting, singing, and remarkable guitar playing.
I arrived about half way through the first set. Johnny Vernazza's band was up. They were playing southern-rock tinged blues with a touch of "Americana." The drummer was playing some hard rock drums and the keyboard player was comping along in a standard way. I'd heard Johnny Vernazza before and this was more of the same so I went outside for a while.
Volker's set was a powerhouse. Opening with "Shuffleupagus", they settled everybody into the groove. After that it was full out, all out, all the time through the whole set.
Volker was soloing into his stratospheric flights almost immediately. His new old Telecaster giving him both his roadhouse sound and the lead guitar sound that grabbed so many of us first in "A Case of the Willy's" and then with the Volker Strifler Band when it first appeared at the old Tradewinds. I've seen a lot of shows and sometimes I'm not too ready to jump on the "Gee Whiz!" bandwagon, but Volker and the VSB's set this night was magnificent. Blowing me away with song selection they went right to Volker's truly unique slide guitar re-working of "Spoonful." I don't know how he manages to make the slide guitar have an extra scale note.
"People you're a lying about,
That Spoon,
That Spoon,
That Spoonful!"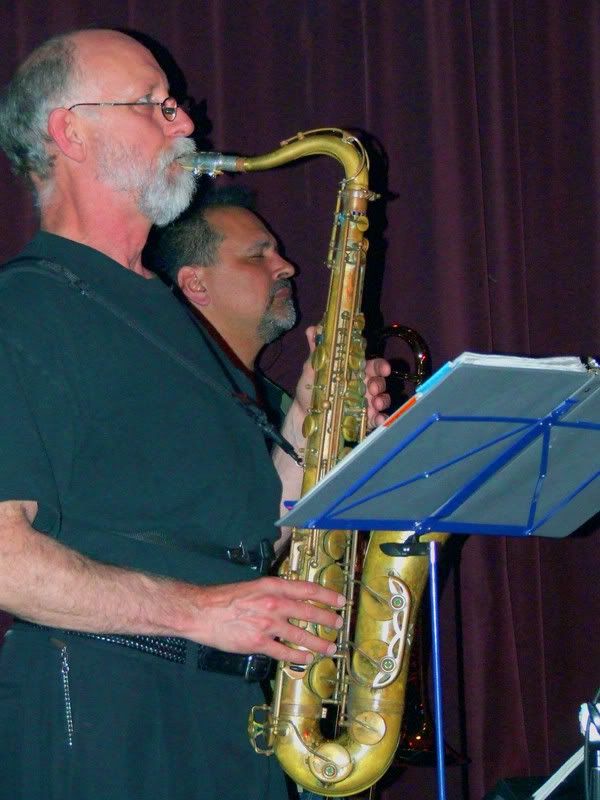 Carl Bowers has a trombone solo on that song that rightly made people cheer.
Songs like "Angel" were burning and the solos by Volker, David Schrader on tenor sax, and Chip Roland Conden on Hammond organ were incredibly full. This song has become a new favorite with its minimalist intro section and then the full power of the band entering.
"She was walking just like an angel,
Really something to see,
My mind was tumbling..
Just like a rolling…,
Just like a Rolling Stone."
It was a very potent and driving set. People were going crazy out on the dance floor. The VSB never let up and pushed the energy level higher and higher. David Schrader was be-bopping in place and Carl Bowers was grinning harder and harder. Don Bassey, playing still another new bass, a "Musicman" with the big powerful pickups, was booming the bass lines as he twisted and shoved the bass in classic style.
Chip was rotating his head and getting really satisfied looks on his face.

Gary Silva on drums was looking really smiley and seemed to be making big arm extensions and lots of body motions. It looked like they were Having Big Fun. In the audience we were going pretty nuts and the dance floor was full.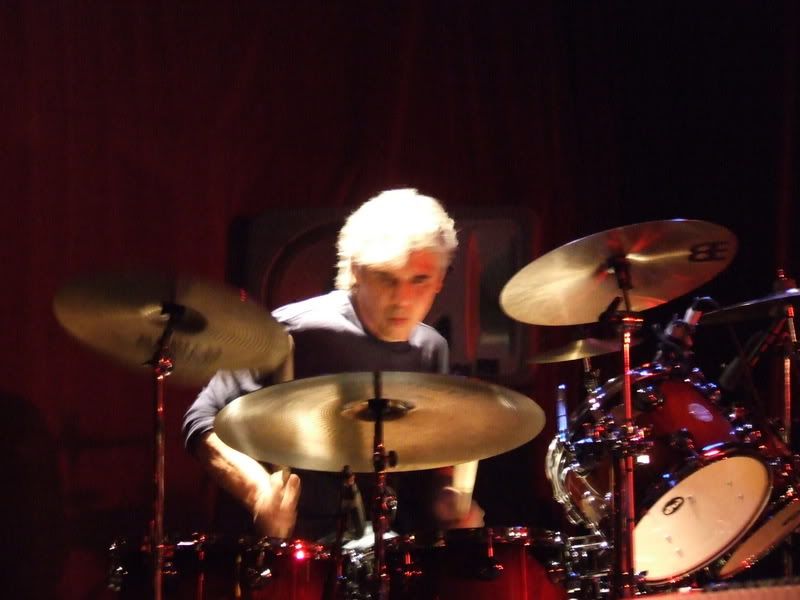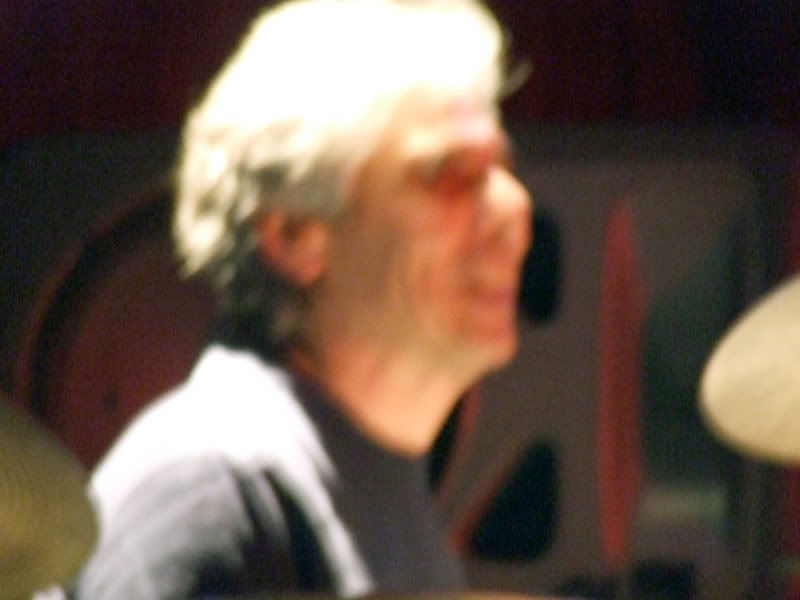 The last set was a jam set with Johnny Vernazza and his band. It was all right, but the energy level was less, and the southern rock cast of the Johnny V Band limited the harmonic work the melded band could do. At a couple of points the harmonic substitutions the VSB does as a matter of habit seemed to make the Johnny V members uneasy. After the Johnny V's bassist was substituted for Don Bassey and a flute player added to the VSB horn section the music got kind of tame with standard changes and familiar southern rock guitar licks and I decided to go home.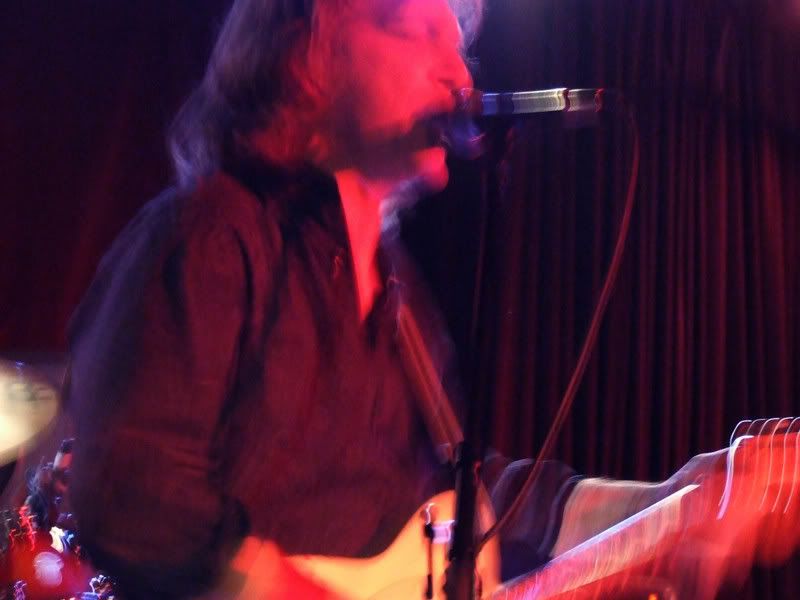 Posted by Rolfyboy6 at 07:39 PM | Comments (2)
April 22, 2007
Elvin Bishop w/ Little Smokey Smothers by: Mo (4/07)
I just knew I couldn't miss this show. I love when he brings Lil' Smokey out here. Elvin's shows are just plain ol' fun anyway.
I called ahead to confirm and they said standing room only in the bar because all the dinner seats were sold out. This was OK with me because I wasn't hungry, I just wanted that dance floor.
We walked in and the place was warm and the excitement was in the air. Very crowded and hoppin'! This was great to see.

Finally it started and off we went to the front. That's pretty much where I stood for the next two and half hours because they didn't stop for a break. Man..... what a long set.


"Mighty" Mike Schermer was there on guitar and I guess Ian Lamson hasn't been with Elvin for a good year now. I didn't know that and I was really lookin' forward to hearing him. Mighty Mike is awesome and was great to see taking his place. Really missed Ian though. I'm hopin' he's still with the Ed Early Band which is where I'm gonna have to see him down at Peri's next time they roll around there.

Ed is still with Elvin. He also had Mike Emerson on keys on this night and that was cool to see. Too bad I couldn't here him that well from where I was. That would be a problem all night. What I did hear was great, of course.

Evan Palmerston on bass, a really good drummer who's name I didn't get, Ed early on trombone and of course Elvin singing and on that guitar!
Man, can he still play the hell outta that thing. I just love his playing style.
I love watching Elvin more than anything. His facial expressions, his funny songs, he's so animated. Always a great show from him.
He invited a couple guest up one being Angela Strehli. I love her singing style. Again, from my standing point, I couldn't make out her vocals too well. Not even out of the monitor which I was standing next to. All the same, she sounded great. Still got that awesome voice, she does.

Finally....it was time for Little Smokey Smothers. He strapped on his guitar, and commenced to playing and singin'. He's still got that "Smokey" voice and there was no problem hearing him!
His guitar playing was alright but what got to me was that big voice of his. I think his rendition of "Little Red Rooster" is by far the best I've ever heard. Even if not Politically Correct by today's standards. I'm sure Imus would've loved it ;-) Little Smokey was having fun with it and that whole issue, no doubt.

What a great night. Not a whole lot of "jammin" going on and it was tight.
I love his song "My dog". I dedicated that one to our old family dog, "Petey". We had to put him down a few weeks ago and that was one of the hardest things I've endured yet in this life. That and watching our Son, Brian, go off to war. I love you, Petey! We miss you.
He was one of the kids for many years and grew up with them.

There were many great moments lastnight. Rancho Nicasio is a great venue to go hear some blues. It's warm, cozy, friendly, and a great dance floor that's always open and man, was it full of lots of fun dancers lastnight.
A great place to go for dinner and a show if that's what you like.
My legs and feet were achin' after that one! Two & a half hours straight but to be honest.....it seemed to fly by.
It all ended so soon and then it was time for that blustery drive home. Finally got some wet weather and that's refreshing.

Thank You Rancho Nicasio for a great night of blues and warm venue to call home for a few hours.
Elvin and Gang....you guys are the best!!

Later,
Mo
Posted by Mo at 01:20 PM | Comments (0)
Volker & Johnny at Last Day Saloon By: Mo (4/07)
It had been awhile since the last time I'd went out for some live music.
At least a whole month!
Geeze...I remember the days of going four nights straight. And working too. Those days are long gone it seems but it was a good run. Lots of memorable, and not so memorable shows.

So, off I go to see Volker Strifler and Band.
Johnny V opened and I was indeed excited about hearing him with his own band but more curious about who'd he have in his band.
Walked in and I don't think I'd ever seen these guys before.
Real good keyboard player but he mostly had my attention when he played that blues piano. Gotta love that stuff. The organ part's OK but my favorite key is the piano.
I was just thinking of Barrel House Chuck and how he could really play that stuff. That old time blues piano stuff I'm thinking of.
Anyway, this guy Johnny had with him was really good. He sings too.
A drummer that was about as hard-driven has I heard in awhile was there. Some guy from NY.
Tight band with some tight arrangements. I thought I heard some southern blues/rock in there somewhere.


Next up would be Volker.
This set was the highlite of the night.
It seems it's been awhile since seeing them last.
They sure are getting tighter these days.
I love that Great Rain song Don sang. I was very surprised to hear that.
That is absolutely one of my favorite John Prine songs.
I'm hoping that one stays on the song list.
It's hard to tell because it was done during the "Jam" in the last set.
They seemed to be going back and forth sharing their own stuff with a stage full of musicians. The Strifler band seemed to know that song and it seemed somewhat rehearsed so I'm keeping my fingers crossed..... Great Job, Gang!

The horn section was there, and soundin' great, but tucked away in the corner. Seemed so far away.

Here's to you, Gary!
What a drummer.
The whole band was sounding really good on this night. There's chemistry on stage. Volker finally cut loose on that guitar on a couple and wowsers!

The third set was pretty darn good. It was a jam and got to be too busy on stage although all were great.
As with all jams, if you wait it out, a magical moment will emerge.
I almost left a few times during the last set but then one of those "moments" would happen and kept me hangin' in there a bit longer.
I'm sorry, I don't have the patience for jams. It just drags on too long sometimes, you know what I mean? Especially when you try to give every musician a solo in every song. And when you have a stage full it can be a long while.
Don't get me wrong, every musician up there is worth hearing but maybe feature one or maybe two a song. All up there are capable of this.
Really stretch it out, take your time and don't feel rushed, just time to really express ones self, I would think. Or forget all that crap and just play that damn guitar the whole song ;-)
Seems I ddin't get to hear much of it from V on this night. I love that stuff and it never seems to be enough for me so.....


But what a great night all and all.
That last encore song was one hell of a way to end the night!
Volker....you are amazing.
Hope to catch up to you soon just to get a whole night of ya.
Still waitin' to hear about that first tour ;-)

Later,
Mo


Posted by Mo at 01:17 PM | Comments (0)