« Horseman's Club Sunday, June 13, 2008 | Main | Sonoma County Rambles: Janiva Magness at KRSH »
July 15, 2008
Volker Strifler Band at Healdsburg Plaza 7/8/08
The City of Healdsburg has a big Farmer's Market on Tuesday afternoons which really caught on and it's a big event now. The City of Healdsburg has added a Concert Series in the new big gazebo on one end of the park and it's taken off the last couple of years. I don't know how the booking is done, but somebody is booking good acts
The Volker Strifler Band was just chugging into "Shuffleupagus" the inspired upbeat opener Volker came up with a couple of years ago as I arrived at the downtown Plaza having been at the tail end of the Hwy 101 traffic jam coming north. I wasn't sure how full the Plaza was going to be and found it comfortably packed with wine drinking parties and picnickers. For sure this wasn't a "Beer and a Shot" bar, this was full sunny California with Palm trees and Redwoods in the same square, cheese and the finest local wines. People appeared to have brought lots.

Volker was sounding good over the fine sound system with the full purr to his voice. "(Is this) Love" was a full toned production number with short solos by including David Shrader's sax solo that no one heard much because his mike channel wasn't on in the house system and only the stage monitors had it. That was the only muff with the sound system the whole show, really the mid-sized sound system used was truly superior, especially for an out door show. Gary Silva's strong and crisp drumming came through well and he was able to do the lighter percussion things and snare work and be heard.
"The Dance Goes On" got people out dancing pretty early in the show. Lots of folks were still eating and drinking. Volker's vocal on this was smooth and tasty and Carl's trombone solo seemed to fit the day so well. Volker is getting more forthcoming in his stage presence and is working the microphone as he sings. It seems to be improving his "snap" in phrasing, the words having a little bite within his smooth style. The Volker evolution goes on.
Also evolving is the whole way the band plays together. They no longer have music stands and the Band has committed the entire 40 song book to memory. Volker's desire to have the band work and play "organically" together has taken a lot of work and the band is fully into it now. That's a whole lot of musical parts to memorize and they've done the work, and it shows. They play smoother and in a tight, easy way now, having gone from excellent to exceptional.
Volker's new song "Redemption" with a Caribbean ska beat is a great new addition. Volker really sang this song out strongly, David had a fine sax solo, and "Chip" Roland Condon's organ solo was both Caribbean and Zydeco at the same time with a lot of the organ stops pulled out. Volker doesn't seem to write about small petty emotions and ideas, it's all about Redemption and the Ecstasy of Love, and traitorous loyalties.
Don's big descending bass line drove the dancers and the band on "Doggin' It" which was a huge sounding ensemble song with the band playing full out and in control. The dancers were out in force in three areas in front of the band. "Sometimes I Wonder" was sort of a stylistic culmination for me. Having watched Volker move from a lyrical style focused on long line solos to a harder rhythmic style more concerned with driving the song and the band it was exciting to see Volker putting both together. His long line solos are back within the tougher style and integrated into his song conception. Volker was playing "hard" and his melodicism was back in full force, the switch to the tougher sounding Telecaster guitar really working for him. Volker was really working hard and moving on the stage.
Volker is always coming up with something new or a new way of tackling an older song. A new out of left field Jazzy introduction to "Almighty Dollar" had the band at rest waiting for their cue while Volker went some place new for twenty seconds on guitar. Volker working on stage presence and communicating physically to the audience is paying off, he's doing the physical moves needed to get across to the audience at a big show like this one.
"Somebody Help Me," has a new tighter stripped down version. David Shrader cut loose on sax and simply blew the top off the song as the dancers screamed. Volker inspired by this, soloed himself and took the song to faraway places. The return of stratosphere Volker. The dancers were jumping up and down.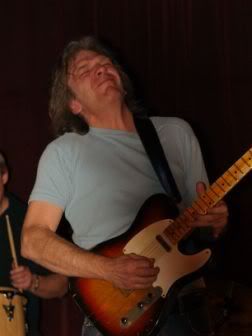 I wandered around during the break, in the excellent ocean-pushed breeze of the warm summer evening. Sweet California. Wine parties all over the lawns of the Plaza, women wearing their very little summer clothes, kids in the fountain in their underpants and dripping as they scurried along the walkways. People breaking out their third bottle. Toddlers fearlessly investigating drinking fountains and trash cans while harried parents attempted supervision. Laughing grandparents sitting back in their chairs and having more food.
"In Your Arms," another Volker signature tune started the second set. The new feature was an almost New Orleans "second line" rhythm ending of the tune. Now the dancing was getting really packed and the dancers were really swinging out. "Spoonful" with powerful slide work and tough trombone solo by Carl had them working out hard. Molasses tone and "People you're lying about that–Spoonful!" had them jumping.


The Band was on heavy cruise and delivering big sound. Volker soloed again and again with way over-the-top solos that were exciting. I was going nuts with the quality of what I was hearing and outer space with Volker was just so fine. On "Constantine", Volker's jazzy harmonic instrumental number, the hugeness of the ensemble sound was big, real big. The finest I've ever heard them do the tune. Volker cut loose with an ecstatic solo that had people cheering.
The last song was Volker's great shuffle, "Moving On." The band had the dancers out and jumping and they weren't holding back either doing jumps and big moves. The band gave every thing on the ranch and Volker's big vocals made everybody right with the song. The crowd demanded an encore and didn't quit cheering until they got one. "Wake Up" had them out dancing again. Wow what a show. I had a glow from it for a couple of days, it was that good. Volker was great before, what he and the band are on their way to becoming is way beyond that.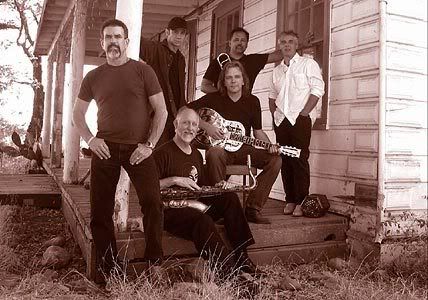 Posted by Rolfyboy6 at July 15, 2008 04:31 PM
Comments
Post a comment