« Sonny and Phil at the Golf Club, and Donny's Pro Jam | Main | Horseman's Club Sunday, June 13, 2008 »
July 12, 2008
Volker Strifler Band and Bluestate at Last Day Saloon 6-12-08
It was Big Weekend when there's too many good Blues shows in the North Bay and it was Russian River Blues Festival Weekend. I had to make decisions. I go to the Russian River Blues Festival about every other year. It depends on the lineup, the heat, and my mood. This year I wasn't in the mood for the Festival's heat and the pebbles on the hillside next to the high priced "gold reserved" section and the no-dancing-in-front-of-the-stage policy, and that weekend my family responsibilities got shifted onto Friday night and Saturday Day. I constructed my own Festival. It turned out others had the same idea. This a review of Part One of my own festival.
Saturday night the darkened lights and the polished wood floor beckoned me through the half opened curtain of the dance area of the Last Day Saloon. As the doorman slid the curtain open my anticipation grew. This is a favorite dance floor of mine and two favorite bands were on the bill, Bluestate and headliner the Volker Strifler Band.
Bluestate does a lot of less well known songs and they came right out of the box with "Treat Me like The Dog I Am." This semi-mocking send up on the suffering confession was delivered in true hound dog fashion by Greg Heumann, lead singer, tenor saxophone and harmonica player for the band. Greg has an understated way of doing the vocals at the beginning of a show that grows on you, and his harp playing really has that organ tone.
Another feature of the night was being able to hear Vince Caminiti's guitar playing within the big sound they were getting that night. Last Day Saloon's sound system was turned well up and the bass and guitar were emphasized. Vince's licks were ripping and he broke out the wah-wah pedal for some tone color on "Got A Feeling" which used the positive qualities of a wah-wah to produce nice harmonic distortion and never went near mindless ankle-cranking wah-wah wanking.
In a world weary voice Greg Heuman harped and sang,
"Is that you again, Baby,
outside banging on my front door?
You say you had enough,
Now you're coming' back for more,
But that's alright.
I said that's alright.
I may not want to admit it,
I'm just a fool for your stockings, I believe."
One of the many less known songs Bluestate does is the mordant self-mocking "(Caught with my) Hand In The Cookie Jar" about getting caught cheating. Greg did this with a whole lot of wide eyed false innocence and regret. Greg really has the quality of selling a song through living it on stage right there in front of you.
The unusual song selection just kept coming with Little Walter's "Up The Line" done almost as jazz, hot harp on "Gonna Forget About You" and a real mind blower, Duke Ellington's "Nothin' But The Blues" which swung like mad, and the funk treatment of " A Good Fool Is Hard To Find." Delbert McClinton's "Something Special" had me wondering how much time they spend looking for tunes, and then the talking romp through Larry Garner's "She Was Klepto" convinced me they all have huge CD collections. "I took her shopping at Best Buy, she came out with a home entertainment system between her thighs, She was Klepto!"
Then just to show they're a lot more than witty, Bluestate did a powerful slow blues, "Salt In My Wounds" with tons of emotion and aching solos. Then by God, they finished off with Tony Sheridan and the Beatles', "Take Some Insurance On Me, Baby," one heck of a crazy R&B boast song. Bluestate sure does have a wild song bag --and they do them right. Combined with powerful musicianship and great solos Bluestate keeps growing and getting notice.
After the break the opening bars of "Shuffleupagus" drew me right up the stairs to the dance floor and the pulsing beat of the Volker Strifler Band. Right away I was dancing on the polished wood floor. It's that full sound with the organ and the low toned horn section that does it for me.
One of the delights of following the Volker Strifler Band is knowing that Volker going to change something and "do it different"–but you don't know what or when. This night he did it with a bang right away with a wild, almost discordant, intro to one of his long time songs, "(Is this) Love?" The band was full-on right from the start and all the songs went for long versions with people jumping and screaming through great solos from the whole band. This was one of Volker's finest nights as a singer and he was really on.
Volker has gone through stages with his guitar playing and he became one of the great soloists in the North Bay some years back. For a while it was "Volker goes to the stratosphere and flies!" After that Volker went to a much stronger rhythmic attack and ensemble work as he developed his songs and band concepts and concentrated on band dynamics. On this night he had all the band concepts and work down and it was the return of stratospheric flight. Volker just took us away with his solos! And the whole band went with him. Carl Bowers had one of his finest nights on trombone and David Shrader, always a powerhouse, outdid himself on tenor sax. Roland Condon on Hammond organ was there with the backing and turned loose with some large sound on his solos. Don Bassey's bass playing and Gary Silva's drumming was powerful this night and they were in synch right from the start. At some little "muff" they just grinned at each other and had immediate tight groove back in control.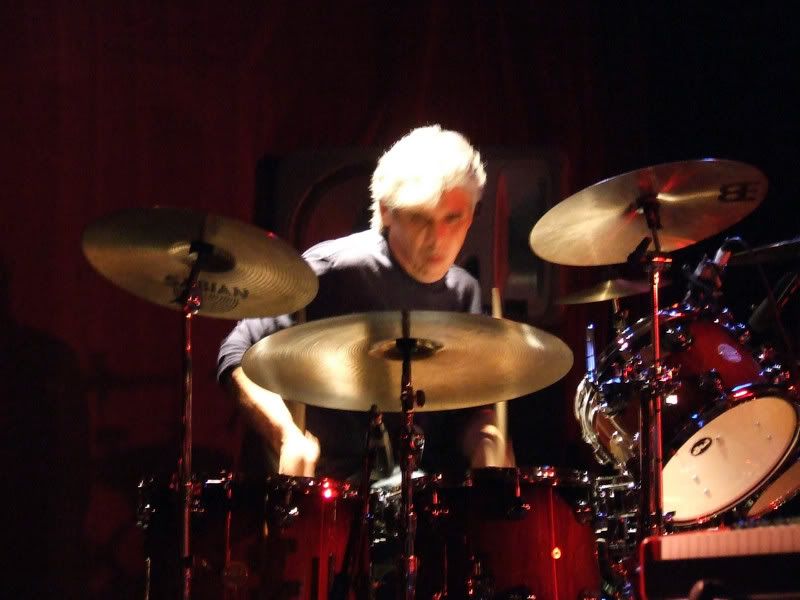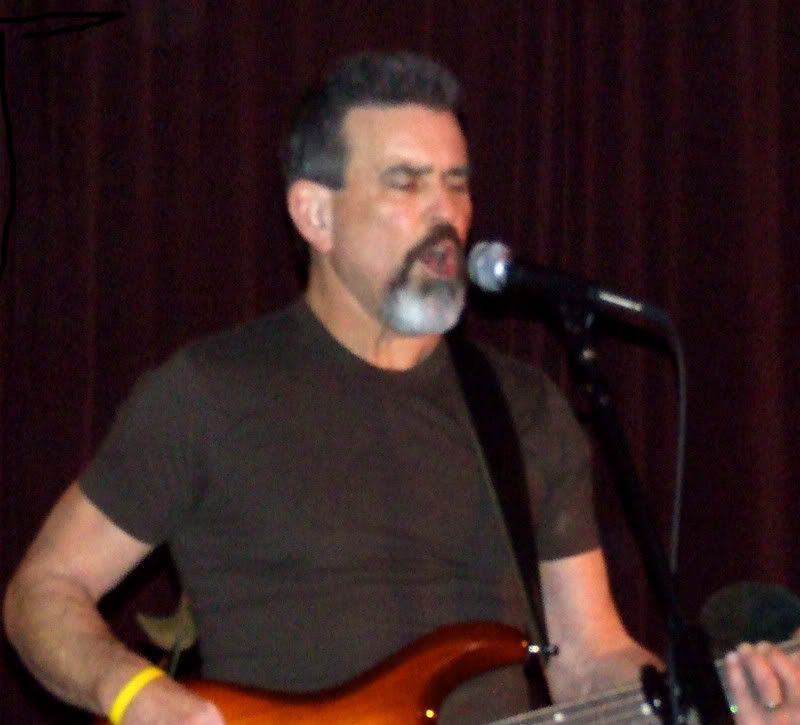 Volker's signature video/promo tune from the most recent CD, "the Dance Goes On" had Volker firing out on the guitar. Those of us dancing in front began to jump and raise our arms as Volker's solos became incandescent. "Soul Salvation" had an incredible solo that just took me away. The skipping, almost swing, song "Almighty Dollar" had a whole 'nother kind of virtuoso performance with a long "outro" which was all call and response between Volker and first Roland on organ and then Dave on tenor sax. It was really witty and a treat.
I was out on the street when the second set for the Volker Strifler Band started. I moved fast as I heard the sound of Volker's slide on his old beat up Fender Jaguar. "In Your Arms" was just ecstatic with Volker totally in control of his slide work and taking to far places. His touch with a slide is just amazing. The slide just got better on "A Day Like Today" with Volker sliding in unison and harmonics to like, "Oh I want you to love me tender, hold me close and surrender, to my love, to my love." Volker has evolved this song from how it is on the Dance goes On" CD. It's harmonically richer, and at this show he was really in the zone. Mo was jumping up and down in front of the stage as the band got totally inside the majestic chord progression and Volker went to the stratosphere. Volker's vocal on this song was the best I've ever heard him do it. Wow!
Somebody called out of the audience, "How was it playing with B.B. King?" "Great! Wow, 82 years old! And he can SING!"
Then Mike Emerson joined the band on keys and did a nice rollicking solo on "Struck By Lightning." Greg Heumann joined on a really wild "Woke up this Morning" and Volker fired off a solo that was a monster and the solos by the other musicians shone, amazing stuff, the whole band was in the zone.
With Roland back on keys the band did "Sometimes I Wonder" slower than I'd heard them do it for some time. Then the harmonic delight "Constantine" followed. Looking just about of gas, the band closed with "It's Getting Late." The band was wrung out and so was the audience. There were no silly calls for an encore, the whole performance had been an encore.
--Rolf Olmsted
Volker Strifler Band - "The Dance Goes On" pro video
Bluestate at Tradewinds - "Prison of Love"
Posted by Rolfyboy6 at July 12, 2008 08:37 PM
Comments
Post a comment